Another Night Out 2019 scene: 20th SW party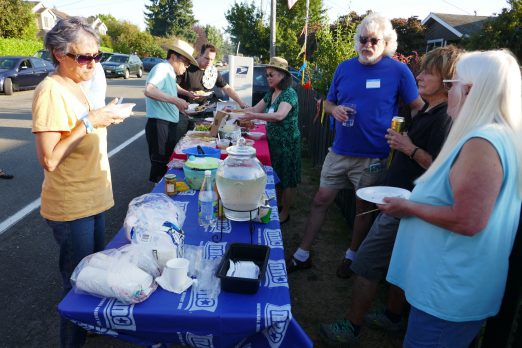 More Night Out 2019 scenes, in photos and a report from Gill Loring:
Thanks to Ron Johnson on the block of 20th Ave. SW south of us we had a great August Night Out Against Crime. Some newcomers including a three week old baby.

The Sheriff's Dept. showed up with Major Anderson, the new Precinct 4 commander, along with the new Community Engagement Specialist, Tierre Larose, who has been here a month, having moved from Ohio . He does like our weather!

Deputy Hancock can be seen addressing the well fed crowd telling them to call 911 any time you see something out of the ordinary. Of course, the first representative of the Sheriff's Dept. to arrive was CSO, Peter Truong.

Great crowd, great food and perfect weather. What a great annual event.
Night Out is always the first Tuesday in August – you can start planning for next year now!
You can follow any responses to this entry through the RSS 2.0 feed. Both comments and pings are currently closed.