UPDATE: Carjacking/stabbing investigation in White Center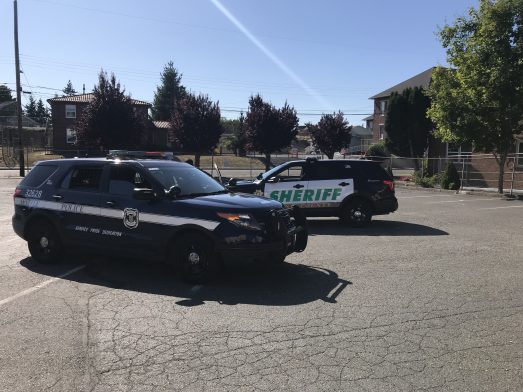 4:48 PM: While in White Center checking out something unrelated, we happened onto this; KCSO and SPD behind Holy Family. They told us they were investigating a stabbing/carjacking. No other details, not even a description of the car, but we are trying to find out more.
6:15 PM: Additional details from KCSO's Sgt. Cindy Sampson: "Units responded to a stabbing / carjacking in the 1800 block of SW 96th. Victim was conscious, breathing, and talking to officers when they arrived. He was transported from the scene by ambulance. Officers subsequently located the victim's vehicle being driven by the suspect. A short Pursuit ensued. The suspect abandoned the vehicle and is on foot in the area of 98th and West Marginal. K-9 Officer is on scene attempting to track."
ADDED MONDAY: Seattle Police have taken over the investigation. They posted this update:
Seattle Police Robbery Unit detectives are conducting the follow up investigation after an 80 year-old male was stabbed in the back and his van was stolen by an unknown suspect Sunday afternoon. Fortunately the injuries are not life-threatening.

Shortly after 4:00 pm, the victim was in the church parking lot in the 9600 block of 20th Avenue SW. The suspect, described as a male, aged late 20's or early 30's, medium build, and wearing dark clothing and a red or orange bandana covering his face, approached the victim and attempted to steal the victim's van. During the struggle over the vehicle, the suspect stabbed the victim twice in the back before stealing the van.

King County Sheriff's Office deputies located the stolen vehicle nearby and pursued the van until it crashed on Des Moines Memorial Drive. The suspect then fled on foot toward the Duwamish River.

Despite an extensive search by officers and a K-9 team, the suspect was not located. The victim was transported to the hospital where he is expected to make a full recovery. The van was impounded and detectives continue to investigate.

Anyone with information is asked to contact the Seattle Police.
You can follow any responses to this entry through the RSS 2.0 feed. Both comments and pings are currently closed.