VIDEO: 3 people shot in White Center; streets blocked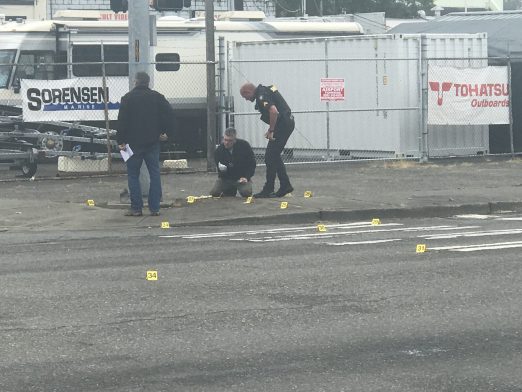 9:47 AM: The King County Sheriff's Office says three men were shot in White Center this morning. The investigation has parts of 17th SW and SW 98th shut down. Detectives tell us they will likely be on the scene all day. The victims are at Harborview Medical Center but no word on their condition yet, nor on the circumstances. We'll be updating.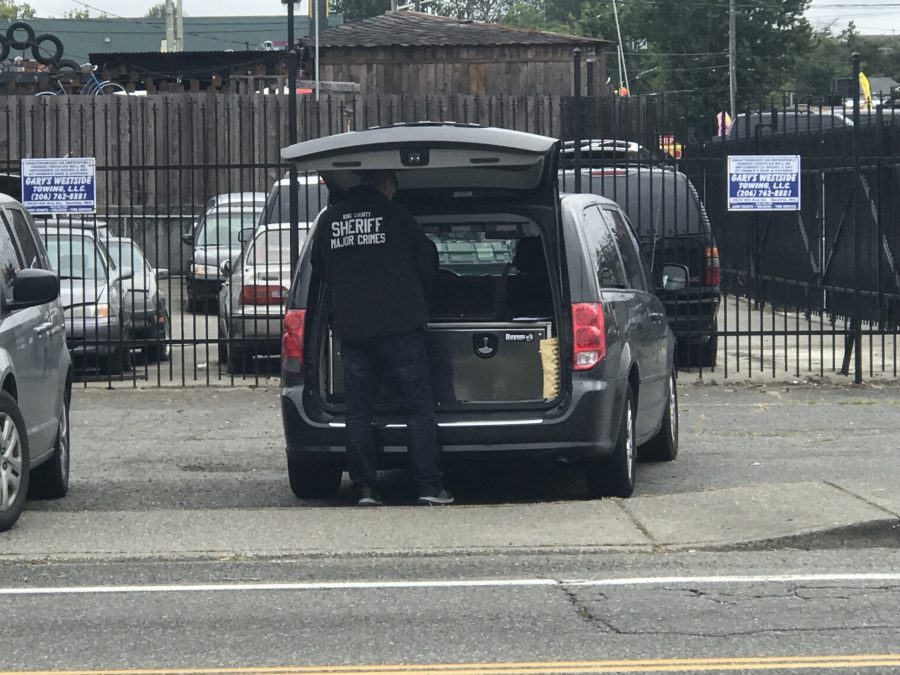 10:35 AM: As you can see in that photo, the Major Crimes Unit is on scene. Also just arrived, KCSO's public-information officer Sgt. Ryan Abbott, so we expect some additional details soon.
10:50 AM: Sgt. Abbott says this is all still being pieced together. Two of the victims were critically injured, one shot in the leg and already out of the hospital. 911 got just one call around 5:30 am of shots fired in that general vicinity. While deputies were looking around, the three victims showed up at Harborview around 6:15. Deputies kept looking and started finding the shell casings in the alley as well as damage to vehicles and buildings. They are also investigating reports of some kind of party in/off the alley early this morning that might have been related. So far they have no witnesses or suspect description so if you saw or heard anything that might help investigators, call 911. (We have his entire briefing on video and will add later.)
1:44 PM: Video added. As Sgt. Abbott noted – and as you can see in our photos – "a lot of gunshots were fired" – around 40, he said they're estimating. SW 98th is closed between 16th and 18th, and 17th SW for a block north of 98th; we'll check back later on the closure's status.
5:17 PM: Just went back to check. The streets have reopened.
ADDED MONDAY EVENING: More followup info is here.
You can follow any responses to this entry through the RSS 2.0 feed. Both comments and pings are currently closed.