SATURDAY: Duwamish Rowing Club invites you to Dieter Hotz Cup regatta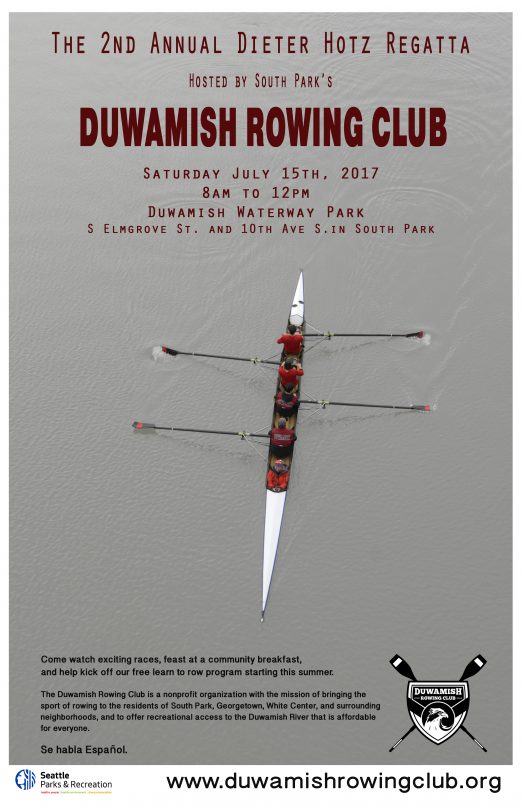 The only rowing club in our area invites you to its second annual Dieter Hotz Cup Regatta on Saturday:
The Duwamish Rowing Club invites you to a fun free event this Saturday, July 15th, in Duwamish Waterway Park (S Elmgrove St. and 10th Ave S). Duwamish Rowing Club is hosting a regatta with races between local rowing clubs between 8 am and 12 pm. There will also be a free community breakfast. This event is a great opportunity to learn more about rowing and recreational activities on the Duwamish River.

The regatta will also be a kickoff for the free Learn-to-Row classes hosted by Duwamish Rowing Club on Saturdays in August and September. There is more information available on our website at www.duwamishrowingclub.org or contact us at duwamishrowingclub@gmail.com. Se habla Español. These programs are funded by the Seattle Parks District Recreation for All Initiative.

The Duwamish Rowing Club is a nonprofit organization with the mission of brining the sport of rowing to the residents of South Park, Georgetown, White Center, and surrounding neighborhoods, and to offer recreational access to the Duwamish River that is affordable for everyone.
You can follow any responses to this entry through the RSS 2.0 feed. Both comments and pings are currently closed.