Seattle City Light work ahead to 'upgrade electronic equipment' on utility poles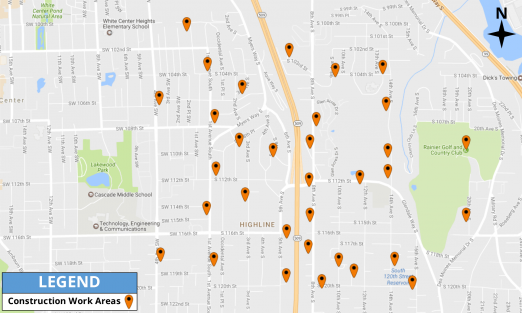 (Click image to go to full-size map on City Light's website)
Those locations in White Center, Top Hat, and other parts of North Highline are where Seattle City Light is about to begin a six-week project "to upgrade electronic equipment on 35 existing utility poles." More details:
This project is an expansion of existing communications networks. The equipment modifications will increase public safety and enhanced-911 capabilities. The work will also improve wireless services to areas, allowing for enhanced connectivity and faster 4G service.

During this project, City Light crews will also have the opportunity to upgrade its infrastructure and replace utility poles that are in poor condition.

There are no maintenance power outages planned for this work. Some traffic and parking impacts are expected in the immediate work areas. Crews will be careful to maintain access to driveways.
You can follow any responses to this entry through the RSS 2.0 feed. Both comments and pings are currently closed.