You can help! 'Work together to make North Shorewood Park awesome'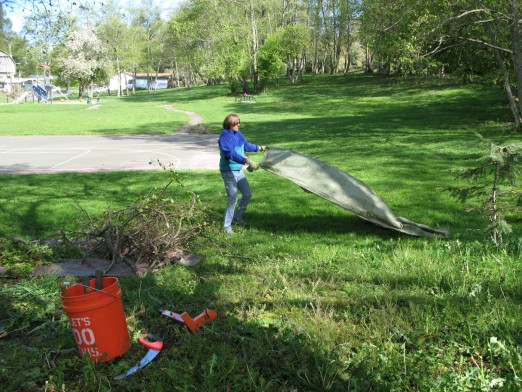 (April 2015 photo by Gill: Volunteer working at North Shorewood Park)
North Shorewood Park needs you! One week from tomorrow, spend part of your day there with your fellow community members – 9 am-1 pm on Saturday, July 11th, to be specific. The invitation comes from Lina @ King County Parks:
Join King County Parks staff and community members at this wonderful White Center park as we work together to make North Shorewood Park awesome. Our goal is to make the park a healthier and safer place for people and animals so that our community can enjoy this lovely forest. We will be digging out aggressive plants that are doing damage to the health of the park. As part of the event, we will also walk the trails as a group and I will share information about the great native plants that are growing in the park.

Young people under the age of 16 must be accompanied by an adult. Any minors attending the event without a parent or legal guardian must also bring a signed youth waiver to event in order to participate. Please contact Lina Rose, lina.rose@kingcounty.gov, 206.491.5014, for a copy of the waiver, more information, and to sign up.
North Shorewood Park is at 10061 21st SW.
You can follow any responses to this entry through the RSS 2.0 feed. Both comments and pings are currently closed.