Congratulations to Mount View Elementary teacher Jamie Ewing, winner of national Innovator Award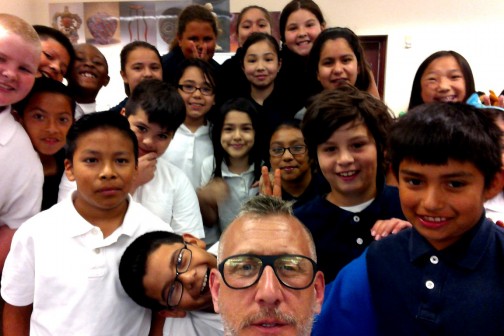 (Photo courtesy Highline Public Schools)
Big congratulations in order for a local teacher – here's the announcement from Highline Public Schools:
Mount View Elementary teacher Jamie Ewing earned first place in The Henry Ford's Innovative Nation Teacher Innovator Awards. Ewing is one of ten first place winners in the country.

The award recognizes educators who are using the classroom to inspire innovation, creativity, problem-solving, and critical thinking among their students.

"I would like to congratulate this nationwide group of educator innovators who are truly changing the way students are learning in the classroom," said Patricia Mooradian, president of The Henry Ford. "I look forward to welcoming them here this summer and watching as this program continues to grow."

Winners were selected by a team of judges based on their original and creative approaches to teaching, their resourcefulness, and the positive impact they make on a daily basis in the classroom. Student engagement, learning goals, and evidence achieving those goals were also taken into consideration.

"Jamie is a collaborative teacher who consistently shares his expertise, commitment, and innovative thinking with our learning community," said Mount View Principal Lisa Escobar. "He engages students by empowering them to solve meaningful problems using critical thinking and technology."

First place winners will receive a week long "Innovation Immersion Experience" at The Henry Ford in Dearborn, Michigan, taking place July 25 – July 31, 2015. The experience includes behind-the-scenes tours with curators and archivists, a teaching innovation workshop, and a special recognition ceremony.

Ewing is a National Board Certified Teacher. Microsoft inducted Ewing into its Expert Educator Program in 2013, and he was named a 2015 Microsoft Innovative Educator Expert (MIE Expert). He has also been named a 2013 Innovative Teacher of the Year recognized by the Academy of Arts and Sciences in Education and 2014 Teacher of the Year recognized by the Museum of History and Industry.
You can follow any responses to this entry through the RSS 2.0 feed. Both comments and pings are currently closed.