Followup: Brodie Lamb sentenced to 22 years for murdering his mother Margaret Ryan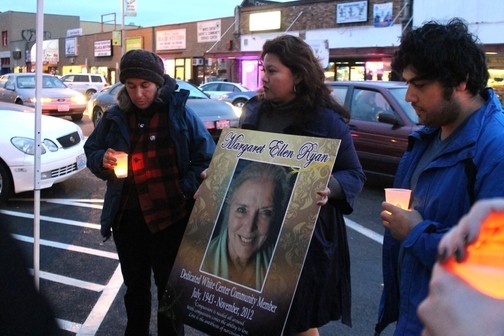 (December 2012 gathering honoring murder victim Margaret Ryan)
By Tracy Record
White Center Now editor
268 months in prison – 22 years and four months – is the sentence that King County Superior Court Judge Laura Inveen has given Brodie Lamb, the 44-year-old man who stabbed his mother Margaret Ryan to death at her White Center apartment in November of 2012. That's the top end of the standard range for his crime, according to the King County Prosecuting Attorney Office's sentencing report.
As we first reported two months ago, Lamb pleaded guilty to a reduced charge of second-degree murder. The sentence represents 20 years for that, plus two extra years for use of a deadly weapon, and is what the prosecution recommended.
According to documents from the Friday afternoon sentencing hearing, Lamb will get credit for the two years and four months he has already spent behind bars since his arrest the night of Ms. Ryan's murder, and when he gets out, he will be on probation (technically, community custody) for three years.
The sentence also directs him to participate in mental-health treatment; the case dragged out longer than many because of issues of whether he was competent to stand trial, and he spent time along the way at Western State Hospital. He had been on Mental Health Court probation until a few months before the murder, and had stopped taking anti-psychotic medication, according to the prosecution's report. His criminal record included a 2008 assault against his mother, who was 69 years old when he killed her, as well as an attack that broke the ribs of his 75-year-old landlady.
Documents submitted by prosecutors before yesterday's sentencing included the 911 call in which Lamb told dispatchers he had killed his mother because "she wanted to lock me out [of her apartment], homeless," and then repeatedly begged for emergency responders to "come save her life." He was not allowed to be at her apartment, but kicked the door down that night and stabbed her more than a dozen times.
You can follow any responses to this entry through the RSS 2.0 feed. Both comments and pings are currently closed.