North Highline Unincorporated Area Council: New member voted in; briefings on juvenile diversion, substance-abuse, arts/culture-support programs…
By Tracy Record
White Center Now editor
For the second time this fall, the North Highline Unincorporated Area Council has welcomed a new member.
That's part of what happened at Thursday night's meeting. Meet Doreen Bomar: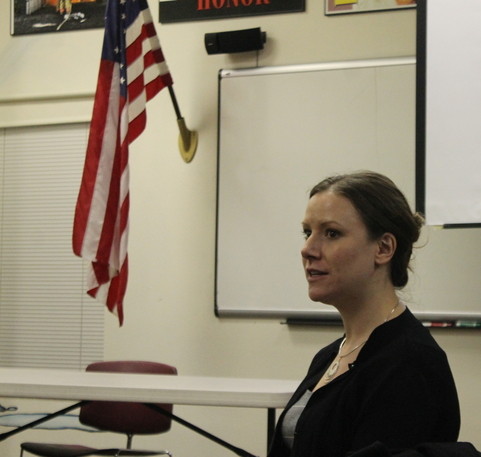 Bomar explained that she is a financial consultant and mom, among other things and has wanted to get involved in the community since moving here. Why become a NHUAC board member? Her reply: "It would allow me to contribute some energy toward helping the community and maybe getting more people involved and finding more ways to reach out …"
The previous board joiner, Elizabeth Gordon, asked her about the hot topics facing the community – economy, local governance, etc. – and wondered what she's interested in. She listed public safety and libraries, as well as working with the business community and encouraging more businesses to open here. Her financial-consulting business is currently home-based but she's looking at area office space and future hires, she said.
She was elected unanimously and immediately moved up to a seat with the rest of the board at the front of the room, next to NHUAC president Barbara Dobkin, who smiled, "Welcome," before moving on to the rest of the agenda.
KING COUNTY SUPERIOR COURT JUVENILE DIVERSION: Shirley Noble from the KCSC came to speak about the Juvenile Diversion Program:
"Every week we're doing this in your community." It's a program offered to first-time juvenile offenders – who commit certain types of misdemeanor offenses – if they choose to go through the alternative process, she explained. If they go through this process, they will not have a record, but if they go to court, they will, so "most of the families will choose to go through diversion – we're dealing with mostly teenagers here, it's vital for their future that they don't have a criminal record that counts against them, hinders them from moving up in life."
Since the brain isn't developed until mid-20s, some of these offenses are "a mistake," she contended, saying most of the juveniles will not go on to reoffend. She says there's a board of volunteers in West Seattle and one in Highline; their function is that, when diversion is chosen, the youth gets their case heard in the community where they live. They might hear two or three cases a week, in the evenings, "because we want parent participation." A court adviser is always present, too. The volunteers talk to the youth about what they did and about their school and family life, and to the family. "We want to really be able to paint a picture of the youth – what's going on in (her/his) life." They look at "how can we help this kid so they don't come back through this system again." They sign an agreement to handle "whatever sanction is imposed that evening" by a certain date – she stressed "they are held accountable."
The recidivism rate is less than 10 percent, she said. The program's been around since 1959 and yet most people don't know it exists.
Volunteer Rick came with her and offered some thoughts: "They get the message pretty clearly right up front that this is their best shot," since the program is "kind of below the radar." Once you're in the criminal system, "you're in it for your entire life." With diversion, "it's not about guilt or innocence, it's about where they go from here." He said the volunteerism is key to making the program work, as is talking with parents, who might be in denial, or "delusional," or just don't know what to do, "so we can ask, how can we help you?" He serves one night a month, "sometimes a little more." Rather than just griping about problems -"did you see the graffiti, etc." – he says, "it's a chance to intervene and help that child get back into the community … sometimes joyous, sometimes painful, but so worth it." His voice broke a bit about seeing kids with dreams have a lightbulb go on. They need more help – "we have lots of cases, unfortunately."
Rick spoke of one such case, a teenage girl "who was beginning to show signs of some serious stuff … at one point, I said, 'who all's affected,' and they don't always get that I'm affected, I'm sitting here tonight because of something you've done. I said 'I care,' and she looked at me and said, 'Why would YOU care?'" That bowled him over.
Volunteers have to have background checks, by the way, so if you have a history with a violent offense or an offense against a child, you wouldn't be able to participate.
The program reduces court congestion, it was noted, so judges have more time to deal with more-serious cases."Our typical case is shoplifting," Noble said.
COALITION FOR DRUG-FREE YOUTH: Coordinator Rudy Garza spoke to the council about its work in White Center and Burien trying to reduce alcohol, tobacco, and drug use by youth. It's a federally founded program administered by the state and county.
Higher percentages of 8th graders in this area, than the rest of the county, smoke cigarettes, drink alcohol, use marijuana, and/or abuse prescription drugs. 24 percent of the 8th graders in this area reported considering suicide in the past month, compared to 17 percent statewide. Right now, the agency is going into a strategic-planning process to figure out how to tackle this, and expects to finalize a plan next March, with implementation the following June, depending on what kind of funding they get.
The focus is "positive, healthy adulthood" as a result of the work.
The group so far has worked with Cascade and Evergreen schools, and the coalition will meet at Cascade next week. In Q/A with the board, Garza talked about the importance of reaching out to the area's ethnic/immigrant communities regarding availing themselves of the resources that exist, something that might not be part of their culture otherwise.
4 CULTURE: Leader Jim Kelly talked to NHUAC about his organization, which funds art programs as a "county entity" but is not a "county department" but rather a "public development authority." He talked about arts programs helping youth fill their lives – tying in with two of the previous presenters in spirit, if not officially. He ran through ways that the community can help arts programs for youth, such as getting instruments to students who need them. And his agency has a lot of resources available, but the community doesn't always know about them, so he was hoping to fix that. He says they now have a program with no "annual application deadline," to remove a barrier to some participation, and they are hopeful that more people in this area will participate in the programs – the ones that do have annual deadlines will soon have 2014 dates. In Q/A, he revealed that for example, because of how they are funded, they can't pay for programs IN schools, but can pay for afterschool projects, through groups such as Arts Corps. "If you don't give kids a creative outlet, they're going to lapse into destructive," he observed. Find out more about 4 Culture by going here.
AGENDA POSTPONEMENTS: Storefront deputy BJ Myers couldn't be on hand because of a ridealong; Meagan Eliot was a no-show regarding the strategic plan.
ANNOUNCEMENTS: Councilmembers Liz Giba, Pat Price, and president Dobkin rptestified at the recent budget hearing at County Council Chambers downtown; Dobkin said they were the "only actual community members – from ANY community" to testify, but so many others were there from organizations, it ran three hours before they spoke, focusing on supporting passage of funding for the White Center storefront sheriff's deputy and for more King County Sheriff's Office resources – "we are very understaffed in this area," she noted, with about half the staffing per capita in the unincorporated area as the "contract cities" in the county have. She quoted Sheriff John Urquhart as saying there are more fatalities in the unincorporated area – often, KCSO can't get there fast enough. They submitted petition signatures and a letter in support of the resources, and, Dobkin noted, there's still time for people to contact the Council to voice their support. You can send budget comments to the County Council by going here.
BUS CUTS: Dobkin said that NHUAC is working with the county on a community forum about the possible bus cuts announced earlier in the day (here's the Metro website with details).
NEW LIBRARY: Price reminded everyone that (as published here on WCN) the next meeting for the new White Center Library project is at 6:30 November 19th at Mount View Elementary. Strong turnout is important, she said, to make sure King County Library System knows that people are interested and "watching." Gordon recalled a NHUAC-meeting visit from KCLS head Bill Ptacek, who she noted seemed to have set ideas about the project and was even surprised at community questions/concerns, particularly regarding possible transient loitering in the facility, which is expecting heavy use by students from the nearby school.
LIBRARY BAZAAR: Price mentioned that this is coming up weekend after next. Here's the flyer:
White Center Library Guild Holiday Bazaar flyer

Community advocate Gill Loring stressed that proceeds benefit youth programs.
UNIFORM FUNDRAISING: The Wolverines girls basketball team at Evergreen needs new uniforms – a community member say they're working on fundraisers; they start practicing later this month. (More details if we get them!)
FUNDRAISING DINNER: White Center Kiwanis says their baked-potato-dinner fundraiser supporting the New Start High School Key Club is coming up – 6:30-8:30 pm Wednesday, December 4, at New Start, 614 SW 120th. $10 gets you a baked-potato bar, salad, rols, dessert, beverages, and entertainment by the student members of the club.
GRANT APPLICATION: NHUAC is talking about applying for the county's semi-new grants available to groups in the unincorporated areas; next deadline is January 10th.
Keep track of NHUAC events and issues via its website at northhighlineuac.org.
You can follow any responses to this entry through the RSS 2.0 feed. Both comments and pings are currently closed.