Governor Inslee in White Center: Science standards announced at Cascade Middle School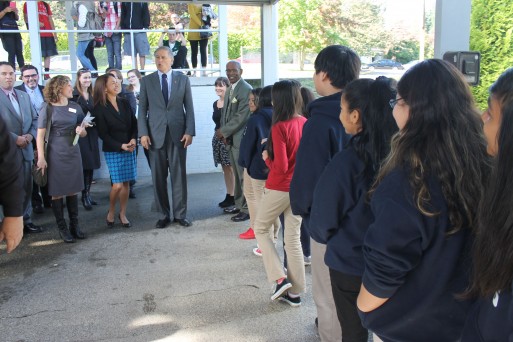 (Top two photos by WCN co-publisher Patrick Sand)
Big excitement at Cascade Middle School on Friday afternoon – a visit from the governor. Not only did principal Diana Garcia and her students enthusiastically welcome Governor Jay Inslee, who has White Center roots, but so did leaders from throughout Highline Public Schools, including Superintendent Susan Enfield. The governor joined State Superintendent of Public Instruction Randy Dorn at Cascade to talk about the new science standards. But before they spoke, he spent some time with students, asking if they like science and wondering what new ideas they're working on. Student Ming Tong volunteered one: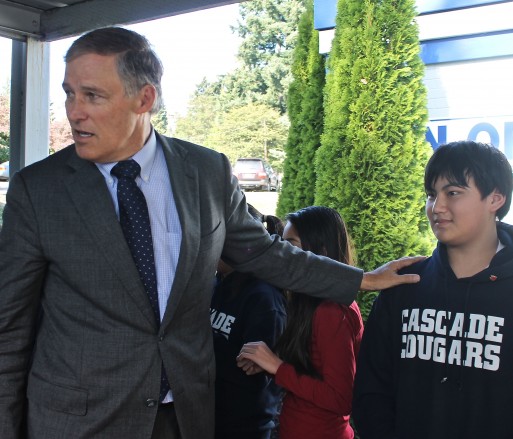 He told the governor that we should be working on low-polluting or even non-polluting aircraft fuel. Gov. Inslee said there's some work under way at Washington State University, but was so impressed by Ming's suggestion, he gave him a pin (an apple he says he hands out daily to someone with a good idea).
As for the new standards, read Superintendent Dorn's announcement here; read about the standards themselves here.
To see more of today's visit – check out this clip put together by the district:
Governor Inslee Visits Highline from Highline Public Schools on Vimeo.
You can follow any responses to this entry through the RSS 2.0 feed. Both comments and pings are currently closed.