Celebration planned September 14th for historic White Center Fieldhouse at Steve Cox Memorial Park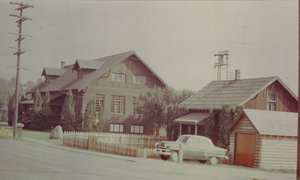 Just out of the WCN inbox, from King County Parks:
As part of its ongoing 75th anniversary commemoration, King County Parks celebrates the historic White Center Fieldhouse with a community gathering on Saturday, Sept. 14, featuring games, activities, performances, memories and a special anniversary cake.

"The White Center Fieldhouse, and its home, Steve Cox Memorial Park, have long held an important place in the community," said King County Executive Dow Constantine. "It is only fitting that we recognize and honor their enduring legacy as the final event of our 75th anniversary celebration."

King County Parks hosts this free family-friendly celebration at the fieldhouse, at 1321 SW 102nd St. in White Center, from 2-5 p.m., with the official program getting under way at 3:30 p.m.

In addition to highlighting the unique histories of the building and park, the celebration will feature games, arts and crafts, cake and performances by special guests.

The fieldhouse, which is also known as the White Center Community Center, or the Log Cabin, was constructed between 1938 to 1940 and is one of the five original Works Progress Administration fieldhouses in King County.

Designed in the National Park Service "rustic style," the fieldhouse features gabled wood shingle roofs, large covered porches with oversized log support posts, stone fireplaces, and half-log sliding. The building is a designated King County Landmark.

Community members are encouraged to share their memories of the White Center Fieldhouse with others by participating in the virtual scrapbook and video that King County Parks will assemble and make available to the public.

During the Sept. 14 event, King County Parks staff will record short video clips of any attendees who wish to share their memories of the fieldhouse. People can also share their photos and memories via e-mail by contacting Frana Milan, at frana.milan@kingcounty.gov.

In 2013, King County Parks has been celebrating its 75th anniversary with special events held throughout the county, including a volunteer "work and party day" at Tolt-MacDonald Park, backcountry trails celebrations at nine sites, a "King County Parks Day" proclamation by the King County Council, and the launch of the King County Parks Foundation in partnership with Laird Norton Wealth Management.

For more information on King County Parks' 75th anniversary, visit kingcounty.gov/recreation/parks/about/75th_anniversary.aspx.
You can follow any responses to this entry through the RSS 2.0 feed. Both comments and pings are currently closed.