White Center Food Bank harvests $15,000 from Avalon Glassworks' apples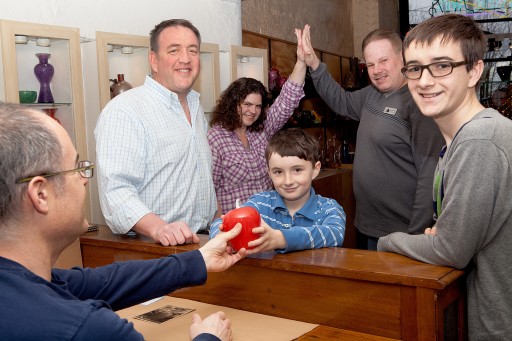 (Photo by Lena Eivy)
You've heard about the beautiful glass apples that West Seattle's Avalon Glassworks sells as a fundraiser for White Center Food Bank – now, WCFB sends word the ongoing benefit has achieved another milestone:
In May 2011, Avalon Glassworks' Feed the Core apple series hit the $10,000 donation mark for White Center Food Bank – an achievement and goal that many artists might never be able to accomplish. Now, less than two years later they hit the $15,000 mark with apple #375 just last week. Luckily, photographer Lena Eivy was on hand to snap a shot, as she was already at Avalon in the middle of another event benefiting the food bank, Headshots at the Hot Shop.

The premise of the project is simple. Each apple is $80; half of that covers Avalon's production expenses and the other half goes directly to White Center Food Bank, providing approximately 200 pounds of food, translating to 75,000 pounds of food generated by the project.

Shannon Felix, Avalon's co-owner, says, "We get a lot of acknowledgement from White Center Food Bank. The director, Richard Jump, is always so graciously appreciative. It lets us know that we are really making a difference." Headshot's photographer Lena Eivy, who snapped the landmark shot, said, "I believe strongly in the benefits of helping everyone in a group to be successful in order to strengthen the group as a whole. The White Center Food Bank makes our community strong by helping those who need it most." Headshots garnered another $420 for White Center Food Bank that day.

Avalon Glassworks has created for White Center Food Bank an extended community that draws together fellow professionals and art lovers to create something truly magical.
Avalon Glassworks is in West Seattle's Luna Park business district, on Avalon Way just south of the West Seattle Bridge, and its owners just celebrated their 10th anniversary of running the business.
You can follow any responses to this entry through the RSS 2.0 feed. Both comments and pings are currently closed.