Veterans' Park re-dedicated in Delridge Triangle: Dream come true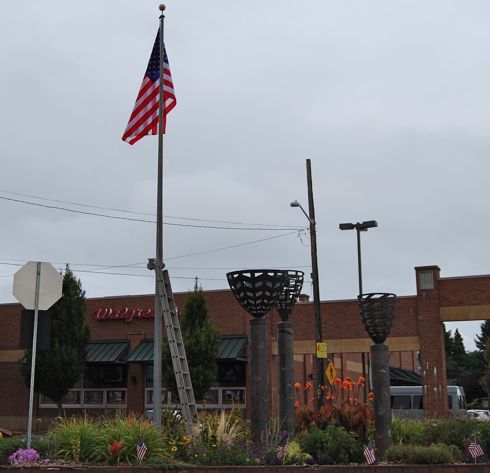 By Deanie Schwarz
Reporting for White Center Now
The White Center Chamber of Commerce's rededication of Veterans Park in the Delridge Triangle this afternoon was the culmination of a six-year dream of nearby Triangle Tavern owner Geoffrey "Mac" McElroy.
Speaking at the ceremony, he told of his adoption of the bedraggled, non-standard-sized flag he discovered in the park upon taking ownership of the tavern six years ago. As a Navy veteran and member of a longtime military family, he recalled the importance of the journey to raise not only a properly sized flag, but to be able to have the flag fly 24 hours a day over the place where White Center and West Seattle meet.
Years of inquiries to city and county agencies, VFW groups and others were made by Mac to determine who was responsible for the orphaned veterans' memorial, originally established by a now-defunct Glendale veterans group decades ago. Through those years, Mac paid for small replacement flags each year, but his dream was to have a full 5×8 flag fully illuminated at night, as required by federal law to fly the Stars and Stripes.
Finally, as WCN reported last December, the Chamber of Commerce, with the help of Seattle Public Utilities, determined that the flagpole did indeed have power, though the mechanisms had not been maintained or tested in years. The power source was determined and the fixtures upgraded to halogen lights in anticipation of POW/MIA Recognition Day, a national day befitting acknowledgement of those veterans who have served but never made it home.
A Color Guard in full blues from Joint Base Lewis-McChord participated in the formal ceremony and presentation of the flag.
Chamber president Mark Ufkes' White Center Boy Scout troop also played a role, playing the somber Taps and removing the old flag, with the lively Reveille (video to come) as the brand new and much larger flag was hoisted by a troop member.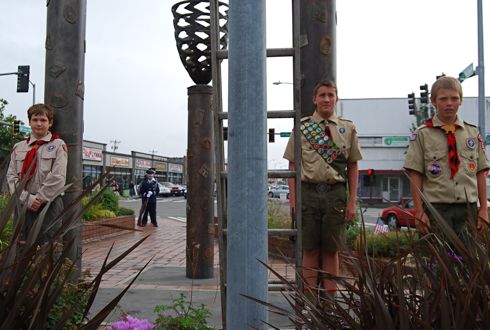 The commemorative plaque, inscripted with "To All Who Have Served Our American Flag" rededicates the park to those in the past and the present and will be maintained in perpetuity by the White Center Chamber of Commerce so that the light will always remain upon the flag, reminding future generations of those who have valiantly served.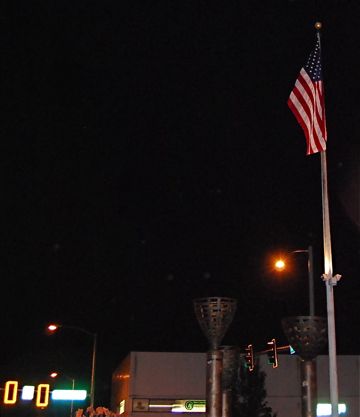 You can follow any responses to this entry through the RSS 2.0 feed. Both comments and pings are currently closed.