Former Southgate Skate Center up for sale; White Center for the Arts still hopes to take over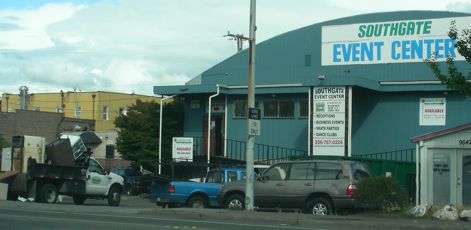 Thanks very much to the reader who spotted real-estate signs up today at the former Southgate Skate Center, briefly turned Southgate Event Center, and crews clearing various stuff out of the building. White Center for the Arts has been looking into taking over the building (it had artist studios in the easternmost section, which has a 16th SW entry) – its website currently says, in an undated entry:
Our mission to secure the Skate Building, at 9639 16th Ave SW, for the community of White Center may be successful. WCFTA is partnering with the WCCDA to retain the building for community use. Though we have officially moved out of the building this is hopefully only a detour.
We sent an inquiry to WCFTA chair Shelli Park, who replied before we could even finish writing this item:
Yes, the WC Community Development Association, in partnership with White Center for the Arts, is in negotiations with the current owners of the skate building. It has been a slow and painful process. A waiting game. The White Center community needs to preserve this historic building for community purposes! White Center for the Arts, which would manage the programming aspects of the building if the deal is successful, is currently looking for arts- and/or culture-based organizations and artists who are interested in renting space in the building as part of the development stage of the project.
Contact info for Shelli and WCFTA is at their website, whitecenterforthearts.org. Meantime, a Burien-based Coldwell Banker real-estate rep was on site today with the cleanup crews, and yet another firm — Cornerstone Investment Properties — is listed on the "AVAILABLE" signs now posted on the building. It went through foreclosure earlier this year, and went up for auction in June (here's the "notice of trustee's sale" that is archived in online county records); rink owners tried a swap meet last fall and had hoped to make a go of it as "Southgate Event Center." The skating-rink business closed in 2005 and had a long history, as detailed at HistoryLink.org.
Tags: southgate, White Center for the Arts
You can follow any responses to this entry through the RSS 2.0 feed. Both comments and pings are currently closed.