White Center Community Safety Coalition: So long, Kathy – plus, the rest of the news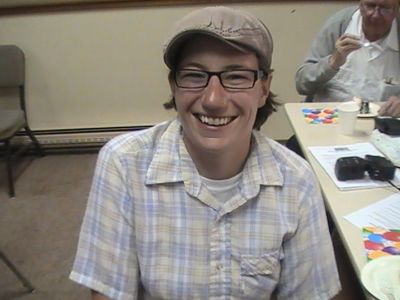 As reported here after last month's White Center/South Delridge Community Safety Coalition meeting, one of the group's facilitators, Kathy Kaminski, is leaving her job to go back to school. So a goodbye for Kathy was a big part of Thursday night's meeting. She got a cake, going-away present and a card; she told us she came to the job 6 years ago as an AmeriCorps volunteer and was only supposed to stay for a few months, but she fell in love with Seattle and managed to stay. Now, though, she's leaving to head to Chicago to get a master's degree in Public Administration. She told us she grew up in that area and her family's all still there, but she intends to move back here after graduation. She told the group, "Thanks for all your hard work. It was a great opportunity – I've learned so much from you guys. I'm excited to move on and sad to leave, but I leave the neighborhood knowing it's in good hands."
Speaking of which – here's the crime roundup: King County Sheriff's Deputy Jeff Hancock says the past month's been unusually quiet in the White Center area – no car thefts, and only one reported vehicle prowl. The major incidents otherwise involved two fights in the 16th SW nightclub/bar zone and a robbery attempt at an ATM; Deputy Hancock says all three cases resulted in arrests, with witnesses' information helping in the robbery attempt, as several passersby saw what happened and provided tips.
Southwest Precinct Community Police Team Officer Adonis Topacio attended on behalf of the Seattle side of the line; he said car thefts and car prowls remain high. Meeting participants asked him to check on what was described as a recurring situation in the courtyard right there at St. James Place – late-night gatherings with dozens of teenagers making noise.
Also discussed, the abandoned, fire-damaged home in the 9000 block of 17th SW and the adjoining lot with a vacant garage. The house was described as "trash everywhere." A formal complaint's been filed with the city. An informal group of concerned citizens will get together between coalition meetings to find out more about what they can do and what the city can do to deal with a situation like this.
One more note: Lisa Quinn from Feet First! came to the meeting, gathering information for a White Center walking map: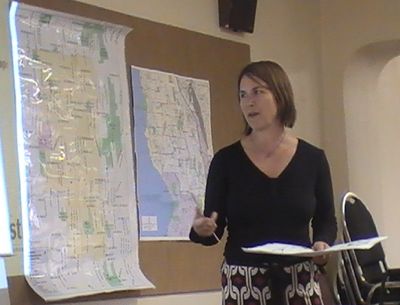 She got plenty of help from meeting participants who broke into groups to make lists of landmarks, staircases, public art, and other features. (Speaking of walking in White Center – remember the Southwest Seattle Historical Society's upcoming History Tour of White Center, July 25 – here's our original report.)
Tags: Feet First, white center community safety coalition
You can follow any responses to this entry through the RSS 2.0 feed. Both comments and pings are currently closed.