Coming on Sunday: Let's talk about Greenbridge and the Future of White Center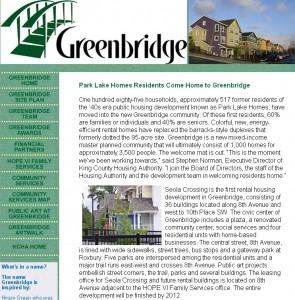 Greenbridge and High Point are major developments in the West Seattle and White Center communities.  Each is well in progress and the results are already changing the faces of the respective communities.  Emotions often run high when discussing the planning and execution of these mega-projects.  So join in a discussion of Greenbridge and the future of White Center.
Tags: Add new tag, Greenbridge Housing Development, neighborhood revitalization, Neighborhoods, white center
You can follow any responses to this entry through the RSS 2.0 feed. Both comments and pings are currently closed.