Car-crash close call for White Center household
Just back from 8th SW north of SW 108th (map), where a car rolled into the front yard of a home whose residents just recently moved in (and narrowly avoided smashing into the house itself). The driver was taken away by ambulance, but witnesses told White Center Now that he walked out of the wrecked car – and reportedly told investigators he had slammed on the brakes to avoid hitting a dog in the road. In the video clip above, you see debris in the street – some sports equipment spilled out of the car – just north of the crash scene. The neighbors who talked with us say drivers speed, and crash, regularly on this street – it's a long straightaway north from 108th, and on 108th itself, with downhill stretches where they say it's easy to get up to 50 mph very quickly. They would like to see a stoplight or some other kind of traffic-calming measure on 8th SW. The scene is barely a block north of the 8th SW site of King County Public Health and White Center Food Bank, by the way. The residents whose house was hit weren't commenting while we were there, but investigators made quick work of the scene – a tow truck was arriving as we were leaving, barely half an hour after we heard about the crash on the scanner. We also caught a little slice-of-life of what it's like to clean up after a crash: first, a short video clip of an officer kicking debris out of the street; second, a photo of the tire the crashed car lost: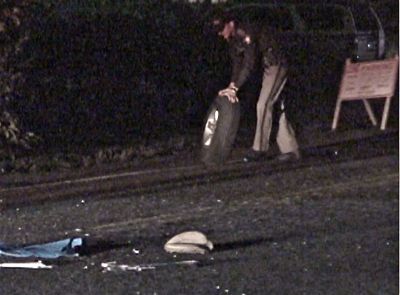 Tags: white center
You can follow any responses to this entry through the RSS 2.0 feed. Both comments and pings are currently closed.