White Center Community Development Association briefs Highland Park Action Committee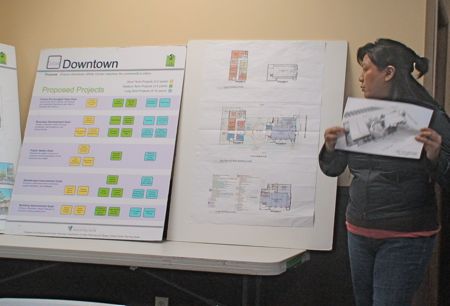 That's Patricia Julio, neighborhood-revitalization director for White Center Community Development Association<, at last night's Highland Park Action Committee meeting; she and WCCDA's neighborhood-revitalization program manager David Daw were there to update HPAC on some of the many things WCCDA is up to, including the latest on the Cultural Center at St. James Place, and revitalization work in the WC business district — here are the toplines:
So far, WCCDA has given seven grants for facade improvements in the business district; the grants are available at up to $1,000 per business owner, as long as they pledge in-kind service in exchange. WCCDA also has a neighborhood-empowerment fund with grants for which individuals may apply. Another major effort: The push for an official White Center business-improvement area.
The Cultural Center plan for St. James Place is proceeding, with the community invited to a meeting at 5:30 pm October 1st, at which architects will present the feasibility study; WCCDA hopes everyone interested will attend the meeting to talk about what they'd like to see in the building. Julio noted that the project does not call for demolishing St. James' buildings, but rather for "gut and rehab" type work.
St. James Place also is the site of the next monthly White Center/South Delridge Community Safety Coalition meeting (6 pm Thursday), and the WCCDA reps extended the invitation to Highland Park neighbors, whose area of concern is covered in those meetings (as well as the West Seattle Crime Prevention Coalition, which meets earlier in the month).
They mentioned a few other areas of WCCDA interest, including cleaning up Hicks Lake (note the event mentioned here a few days ago) and the Technology Access Foundation (which was represented at the PARK(ing) Day "park" we covered here, along with WCCDA), as well as this Saturday's huge Energy Festival and Prosperity Project volunteer effort (previewed here), and WCCDA's big fundraising dinner coming up at South Seattle Community College's Brockey Center on October 25th.
WCCDA has a great website and you can check it any time for more on what the organization's up to: wccda.org.
Tags: 16th SW, Highland Park Action Committee, neighborhood revitalization, wccda
You can follow any responses to this entry through the RSS 2.0 feed. Both comments and pings are currently closed.