White Center bank robber caught on camera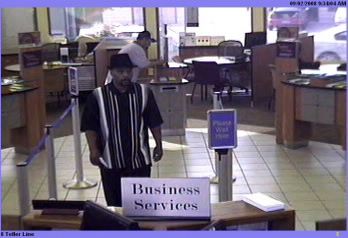 That photo's just in from the FBI – from the White Center WaMu robbery reported here on White Center Now yesterday. And here's some additional information from Seattle FBI spokesperson Robbie Burroughs, who says the same man is suspected in other robberies:
He uses a note and has not displayed or threatened a weapon. Yesterday he was described as being 5'6″ with a round face, wide eyes and a thin mustache. He was wearing a black shirt with vertical white stripes and a black brimmed hat.
Click here to see the flyer put out earlier this summer for two Burien robberies believed to be the work of the same robber. Meantime, here's the second photo from yesterday's heist:
If you have any idea where this man is, call 911.
Tags: bank robbery, wamu, white center
You can follow any responses to this entry through the RSS 2.0 feed. Both comments and pings are currently closed.