Break in the vandalism case, plan to discourage natural-gas use, judge's backstory, more @ North Highline Unincorporated Area Council
By Tracy Record
White Center Now editor
"Celebratory and inspirational" is how North Highline Unincorporated Area Council president Liz Giba described Thursday night's meeting in its opening moments.
And as always, it was informational. The last guest of the night, in particular, so we'll start with him.
SHERIFF'S OFFICE UPDATE: Deputy Bill Kennamer said the White Center business-vandalism suspect has been identified and "we just have to catch her now." The detective has the case ready to file for prosecution and it will be filed, he said, including burglary charges. (For backstory, see the crowdfunding page.) As for overall stats: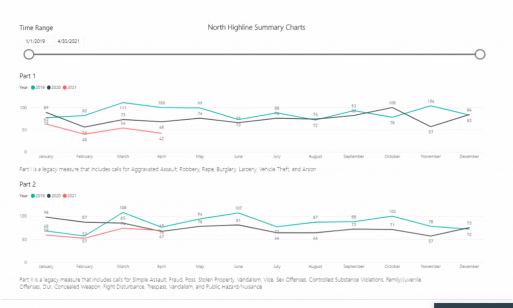 41 vandalism and 44 commercial burglaries in the heart of WC in the past two years – that's most of those two crime categories in unincorporated North Highline. Kennamer also offered his opinion that the policy of not jailing people for property crimes is "going the wrong way" – he agrees that they need treatment but right now there's no place to take them for that. Other discussion included a note that KCSO has lost 85 people from the deputy ranks. "There is a TON of people working a TON of overtime" as a result.
Back to the celebration.
That was right at the start, as County Councilmember Joe McDermott joined the meeting to talk briefly about his just-passed ban of fireworks in unincorporated areas. He thanked community members for their encouragement, advocacy, and support of the measure, which passed on a 5-4 vote. He also reminded everyone that state law means this can't take effect for a year – while enforcement won't start the first year, so the county can do a study to be sure the penalties don't lead to enforcement inequities.
Then the inspiration:
District Court Judge Fa'amomoi Masaniai, our state's first judge of Samoan heritage, told his story. He talked about visiting White Center recently – having roots there – and noticing changes ("hey, where's my Dairy Queen?"). He attended Evergreen High School (Class of 1987) with cousins who lived in South Delridge, and recalled walking through WC with them, from Evergreen to their home. He also remembered street violence back in the day "but we were able to make it through." He said the new influx of money is exciting on one hand, but doesn't want to see it lose its identity as a place where someone – say, an immigrant – could get their start. "It's a different place, a different feel" now. He's glad to see EHS back as a comprehensive high school, and has already been back to speak to the seniors. He shared reminiscences about sports glories.
Judge Masaniai had many other stories to tell, including working aboard a fishing boat in the Bering Sea. "It taught me what I didn't want to do with my life" – 16 hours a day, 7 days a week, "constant physical work, you never got a break." He subsequently worked as a bouncer, airport security, even a golf-course maintenance worker, while he sought other work – finally he got advice that getting a city job could follow if he volunteered. His first role was organizing files, one day a week, and he impressed his supervisor. Then he got to fill in as a bailiff. That led to work as a court clerk, "and I loved it, sitting in that courtroom." He did that in Tukwila for a few years, working with a judge who encouraged him to go to law school. The UW rejected him. Seattle U put him on a waitlist. They accepted him – but his funding fell through. Then he got to study through a "Rule 6" training program which after 4 years enabled him to take the bar exam and become a lawyer. He started off as a Public Defender for small cities. "I got all this great exposure … and in 2006 I got this opportunity" to apply as an assistant attorney general in Samoa, where he went to learn more about everything from his cultural history to prosecuting. He went there on a two-year contract; after 18 months, he became an assistant prosecutor on a high-profile human-trafficking case.
He returned to the mainland and did civil legal work for 2 1/2 years before becoming a pro-tem judge; he started that work in Issaquah, then went to Seattle from 2014 until recently, handling all kinds of cases. But he "really wanted to be in the county" so he pursued pro-tem work in small cities, and continued kicking his quest for judicial work into high gear last year. Becoming a judge involves getting evaluated by multiple bar associations; he was evaluated by five, including King County. He won "exceptionally well-qualified" rankings from all five, he said. Then the district-court judgeship opened up, and he was one of three applicants. (Usually a judicial opening would have 'eight or nine" applicants, Judge Masaniai said.) One withdrew before the interviews.
Questions: What do you like most about being a judge? "Helping people." And "seeing success stories" – he told one about someone who successfully completed years of treatment, improvement, and other accountability after offending.
Also: What has he done to help youth? He has worked in the Juvenile Division, worked with Asian American/Pacific Islander advocates, and he has an ongoing relationship with EHS to help encourage youth to get and stay on the right path. "They don't (always) know how to do this," he said, so he asks, what do you want to do? What's a path to success and a good life? Good grades, college, apply for a good job, get help if you need tutoring …
PERMITTING DIVISION: Nicole Sanders, who introduced herself as a principal planner for green building in King County, outlined proposed energy-code changes that will go to the County Council as legislation. They're taking on natural gas, in particular.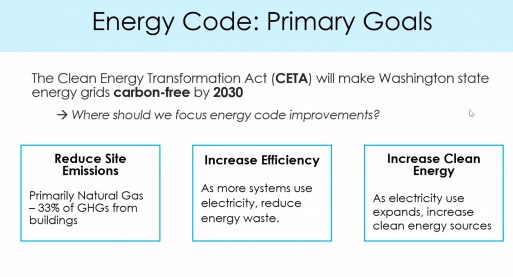 The objectives: Reduce emissions; natural gas is a major source of the still-prevalent emissions. Here's some of what they say is bad about gas: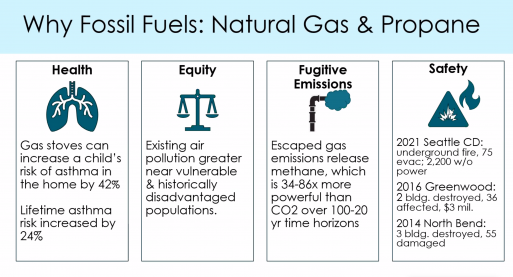 They're proposing banning natural gas heat in new multifamily and commercial buildings.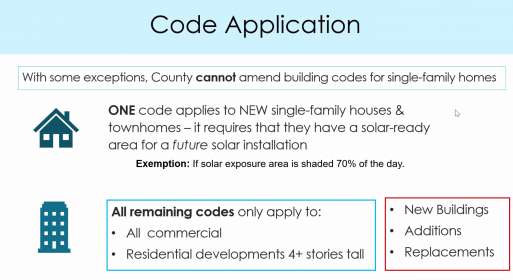 The proposal doesn't affect existing houses
Here is what they're proposing: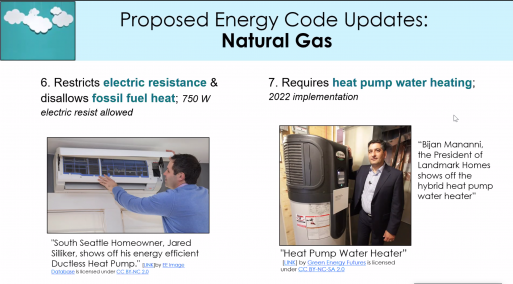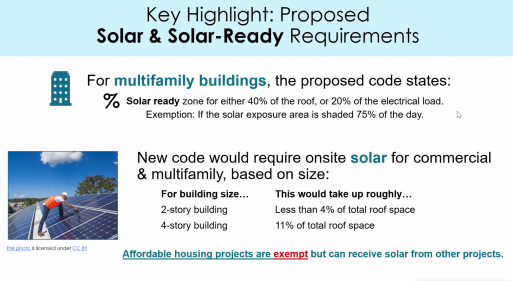 There was a comment period open until April 30th but they will accept comments through May 14th as they shape the legislation for sending to the County Council this summer.
Question: Are there still solar incentives? Some, said Sanders, including no state sales tax.
LOCAL LUNCH: Noon-1 pm Fridays, join the Department of Local Services online.
NEXT MEETING: King County Parks' volunteer coordinator Lina Rose will be a guest, talking about a summer youth-internship program. Application deadline is May 30th, so apply now! Darlene Sellers says there are more paid summer gigs too. We will publish a separate story on that info when we receive it. The NHUAC meeting will be on the first Thursday as usual – June 3rd, 7 pm.
You can follow any responses to this entry through the RSS 2.0 feed. Both comments and pings are currently closed.