From pandemic to policing, here's what happened at March's North Highline Unincorporated Area Council meeting
By Tracy Record
White Center Now editor
Health and safety were at the heart of presentations during this month's North Highline Unincorporated Area Council meeting, held online last Thursday night.
PANDEMIC UPDATE: Matias Valenzuela from King County started the update, showing the chart with the ups and downs of case counts, and now a plateau: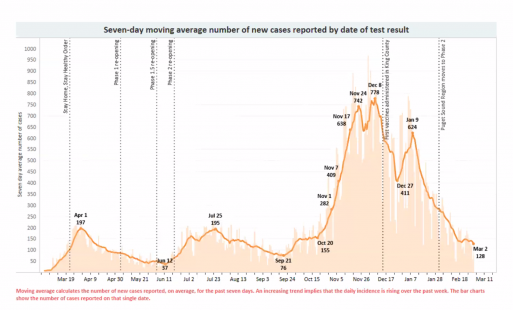 That's a concern, as are the new variants, he said. Meantime, he recapped that the region remains in Phase 2 of reopening – limited-capacity indoor dining and shopping, for example. And he went through the eligibility phases for vaccination, so far, including the governor's recent announcement of eligibility for educators and child-care workers. As the governor announced today, high-risk workers and others are coming up. So the approval of a third vaccine – the one-dose Johnson & Johnson shot – is important. Valenzuela sought to quash any concerns it's less effective, noting that no one who got it in the trials died or even had to be hospitalized. "We have three very good approved vaccines, very good news for what we have to do right now." The newest eligibility categories mean 52,000 more people eligible in King County, added to 117,000 already-eligible older adults who have yet to get their first shot. They have many more vaccinators ready to go – they are just waiting for vaccine.
If you're interested in more data, you can check out the county's many data dashboards (start here). Valenzuela showed an example – 56 percent of white people in King County have been vaccinated, but only 37 percent of Black people.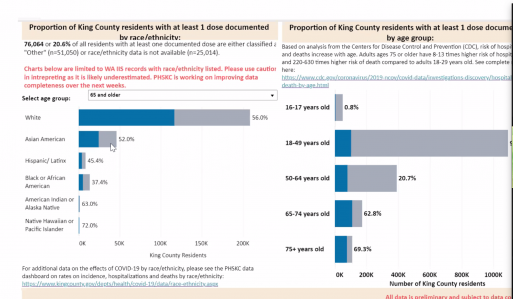 69 percent of people 75 and older have gotten their vaccinations. Valenzuela showed the geographic percentages too: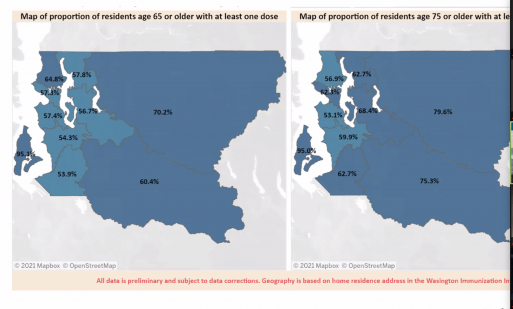 They are working on various outreach strategies to get the word out, and to get people to vaccination sites.
Mentioned at that point: The VA medical system says its vaccine process is open to all veterans now, to whom it provides care. Here's the message shared onscreen at the meeting: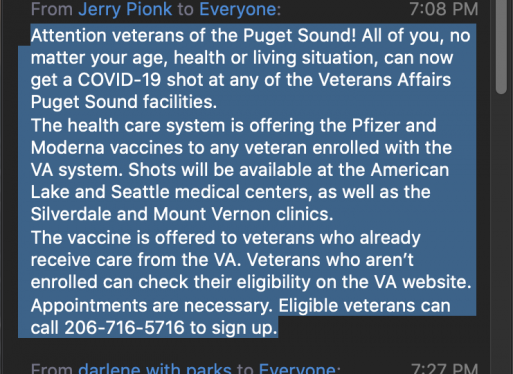 How are efforts to make more shots available to, for example, BIPOC communities managed to ensure that's what's happening? Valenzuela said they're using a variety of screening and outreach tools to do their best. He also said they are working to decentralize the administration of vaccinations, so there are more community health clinics, pharmacies, etc., offering it.
Next, Fire Chief Mike Marrs talked about the risks they run of dealing with possibly COVID-positive people on emergency calls. If exposed, they have to go into quarantine, and that hurts staffing. "It's been a challenging year in that regard." But he said they've been successful at both keeping firefighters safe and keeping them from "bringing it into your homes." He also talked about North Highline launching a mobile vaccination team three weeks ago. They "don't have a mass vaccination capacity" but "we still make house calls," so they've gone to adult family homes and King County Housing Authority sites, and are about to move on to senior facilities. At their peak, they can give about 120 shots a day. Eventually they expect to transition their mobile vaccination personnel to helping at mass-vaccination sites (he expects the closest one to be in Tukwila). The fire department also has handled two mask/sanitizer giveaways and is expecting to present at least one more event – those items are still key to stopping the spread.
OFFICE OF EQUITY & SOCIAL JUSTICE: Director Arthur Hendricks spoke to NHUAC about the office's mission. Six goals cover how the office supports county departments. They both provide support in access to resources and support for equitable decision-making. Community engagement is a specialty; regarding equity, they look at distributional equity, process equity, and cross-generational equity – "the decisions we're making today …how are they going to impact folks into the future?" They use tools such as an "equity impact review," helping managers think about the impact of the decisions they make. The pandemic led to a lot of "hand-wringing" and disruption a year ago, putting everyone into "emergency-management mode" with action needing to be taken quickly, such as providing shelter for houseless people. He also talked about the "equity impact awareness tool," which is centered on race because of how heavily that factors into the distribution of resources. Also examined – economic status and factors such as homeownership, food insecurity, and age. Geography, too: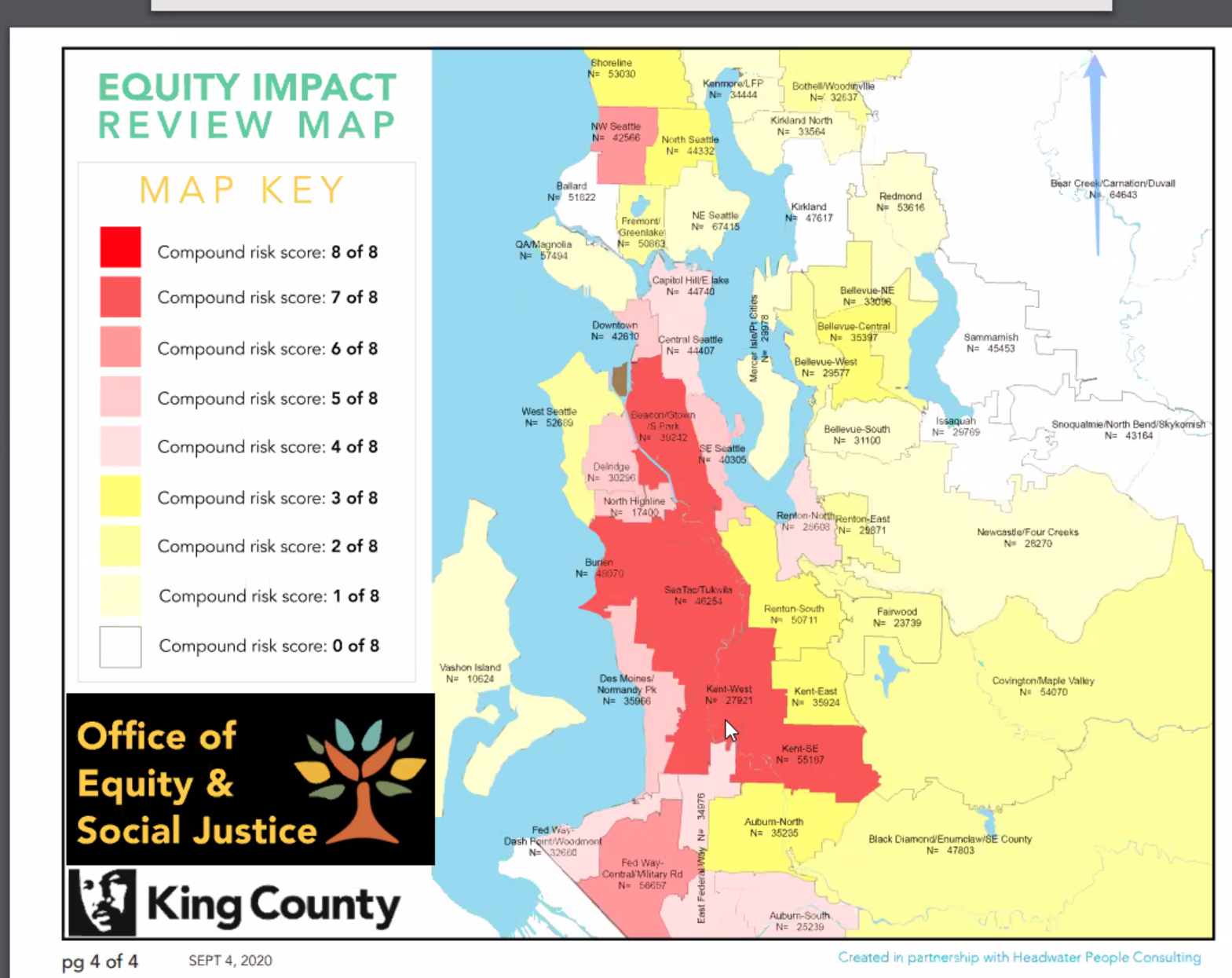 Valenzuela rejoined the discussion and talked about addressing disability in equity discussions, too.
KING COUNTY SHERIFF'S OFFICE: Major Jeff Flohr started by talking about the Grocery Plus drive-in burglary. They have identified the suspect as Tylor Saeteurn. The grocery store suffered about $30,000 in damage. He also mentioned the recent shootings. He said they don't appear to be linked, but drugs seem to be a common theme, among other points.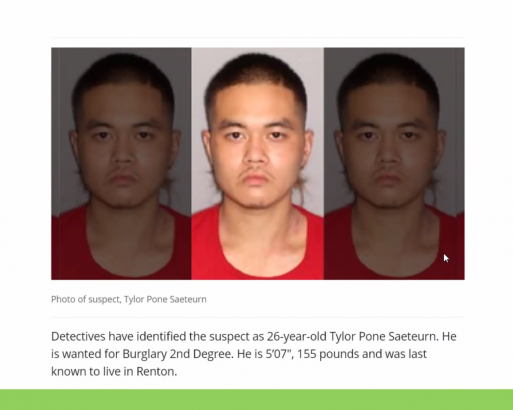 To respond, Maj. Flohr found money for an extra car to do "targeted patrol" starting Friday, through April. That means a third car to float between White Center and Skyway, for higher visibility as well as quicker response. The Special Emphasis Team will work on drug/gun cases, targeting "folks who might live in the area who have outstanding gun warrants.' The Major Crimes Unit is working on shooting cases.
He addressed the state Supreme Court ruling about drug possession. It means deputies cannot arrest a person for 'simple drug possession' nor confiscate the drugs. "There is nothing we can do about it." They can still go after dealers and traffickers, but until and unless it's "fixed by the Legislature," there's not much deputies can do. This also means programs like LEAD are de-toothed because there's nothing to say 'work with us or else…"
Stats: 911 calls were down last year, and response times to critical incidents were "in the top 25 percent of the country":
What about criminal-justice reform and its effects? Maj. Flohr said he personally is concerned that there are no systems in place to replace law enforcement.
Deputy Bill Kennamer presented his regular update. The Myers Way shooting was a homicide, and "it was not a random act of violence." A suspect was arrested in the recent Bartell Drugs robbery. Two local spa/massage locations were raided for human trafficking. Evidence has been sent to the prosecuting attorney's office.
Asked about RV camping by the bog, Kennamer said the sheriff ordered deputies not to enforce parking rules if a vehicle appears to be a residence. What about tents? County Parks is not kicking people out, either. If you have feedback on those policies, Flohr and Kennamer stressed, contact the sheriff and County Councilmember Joe McDermott.
KING COUNTY PARKS: Darlene Sellers was there to talk about the many programs they're doing virtually – including taking submissions now for an online edition of the Log Cabin Talent Show. They'll have a distribution of free art supplies – plus masks – grab 'n' go style coming up. Here's all the info she presented: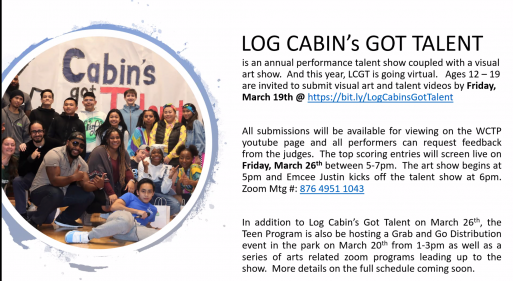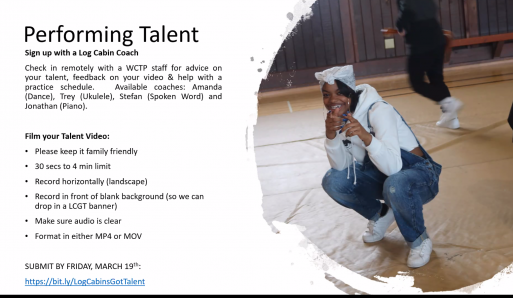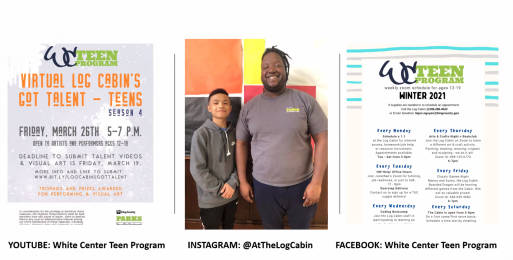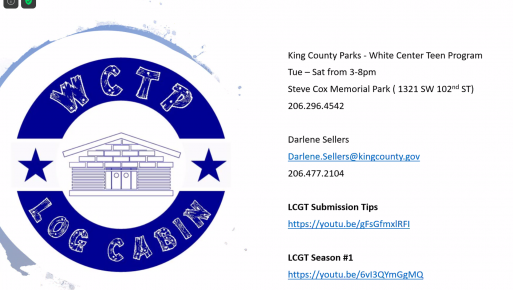 Everyone's welcome to watch the show on March 26th.
OTHER NOTES: Chief Marrs thanked the community for re-authorizing the Benefit Charge to fund the fire department, which has bought two new fire engines and is buying a new aid car. Six future staffers are in the Fire Academy and they'll need a few more to get 24-hour staffing and have it in service by year's end.
NEXT MEETING: NHUAC meets first Thursdays at 7 pm online; watch here for connection/participation information.
You can follow any responses to this entry through the RSS 2.0 feed. Both comments and pings are currently closed.