State Gambling Commission arrests 11 after investigating 'a café in White Center'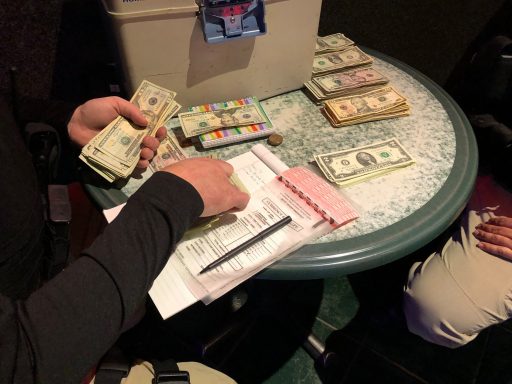 (Photos from Washington State Gambling Commission)
Announced by the Washington State Gambling Commission:
Gambling Commission agents made 11 arrests following an investigation into a Seattle business that has been operating illegal gambling.

For the past year, our agents have been conducting a joint investigation with the Seattle Police Department into illegal gambling activities occurring at a café in White Center. The café does not have, and has never had, a license to operate gambling. While serving a search warrant on Feb. 5, agents located evidence of illegal gambling, including: electronic gambling machines, cards, dice and gambling records.

During interviews, agents learned that the business was charging players an hourly fee in order to participate in the gambling activities.

This isn't the first time we've been to this location. Our agents have conducted six other investigations into the café's illegal gambling activities, beginning in 2004.

Seven players and three employees were arrested and booked into the King County Jail. The players were charged with professional gambling in the third degree, which is a gross misdemeanor. The employees were charged with professional gambling in the first degree, which is a Class B felony. One of the employees was also arrested in 2011 when we served a search warrant at the same location.

The business owner was arrested at the airport on Feb. 14 as he returned from an international trip. He was booked into the King County Jail on the following charges: ownership or interest in a gambling device; professional gambling in the first degree; money laundering; use of proceeds of criminal profiteering; and leading organized crime (class A felony).
The WSGC did not identify the business, but its announcement on social media showed SPD cars in the street on Delridge just north of Roxbury.
You can follow any responses to this entry through the RSS 2.0 feed. Both comments and pings are currently closed.