FRIDAY: Bingo for seniors in White Center on Valentine's Day!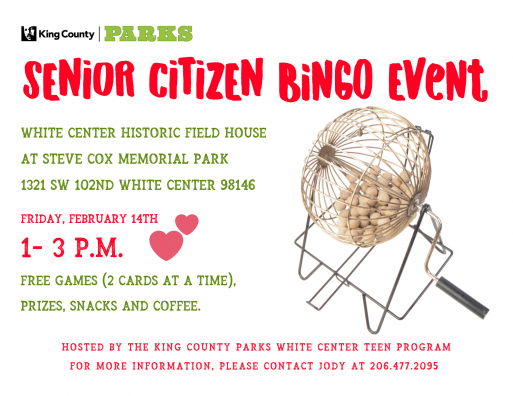 It's almost Valentine's Day! That means this event is almost here:
The White Center Teen Program is hosting the a FREE Bingo Event for Senior Citizens on Friday, February 14th from 1-3p m at the Historic White Center Fieldhouse (also known as the White Center Community Center), in Steve Cox Memorial Park (1321 SW 102nd).

On Friday, February 14th, the staff and participants of the White Center Teen Program are once again hosting a special Bingo Event for Senior Citizens. Doors open at 1 pm and games (two cards at a time) are FREE. Coffee, snacks and prizes are also provided at no charge. Teen volunteers will be on hand to assist with calling the Bingo Games. All White Center Senior Citizens are invited to attend.
You can follow any responses to this entry through the RSS 2.0 feed. Both comments and pings are currently closed.