Checking in with The Lumber Yard Bar's proprietors as they prepare to open in downtown White Center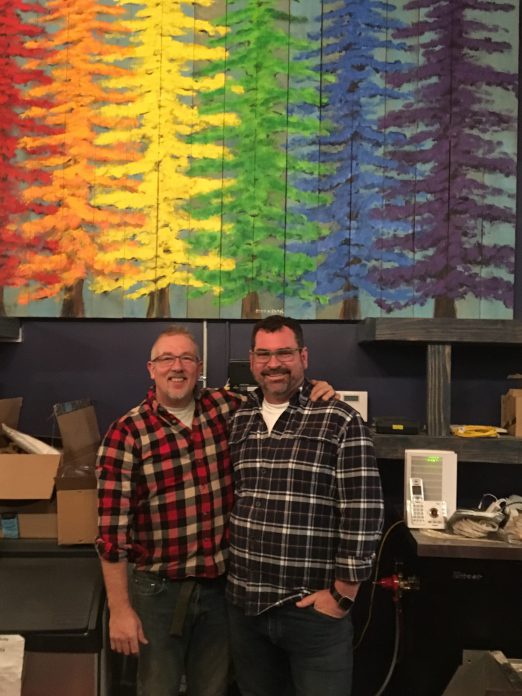 (L-R, Michale Farrar and Nathan Adams, in front of the bar mural)
By Linda Ball
Reporting for White Center Now
Nathan Adams and Michale Farrar love to host parties and to entertain. It's not unusual for them to have 100 to 150 friends over to their home for events such as their annual chicken and brisket feed in the summer. So, their friends suggested, why not make some money out of all this great talent?
The wheels started turning for the partners when Adams left his "day" job a year and one-half ago. Now, they are close to opening The Lumber Yard Bar in downtown White Center.
Though The Lumber Yard is intended to be an LGBTQ bar, Adams and Farrar plan to welcome everyone. They live just nine blocks away, but had looked everywhere for a place to build out their vision. They realized their own neighborhood was just the place, as more of the gay community is moving south due to high housing prices in Capitol Hill and elsewhere in the city.
It's been in the works a while. "It took six months to get our building permit," Farrar said. He said they've had the lease for 9616 16th Ave. SW since last December. The Lumber Yard Bar will have a full
liquor license in addition to beer and wine, plus upscale bar food created in the downstairs kitchen, by Adams and Farrar and one other cook. The menu will include Cuban pulled-pork sliders, brisket sliders, brisket chili, pork-belly mac-and-cheese, baked olive bites, and a mashed-potato bar, to name a few items. They plan to have better-than-typical bar wine, with bottle service to drink at The Lumber Yard or take home.
Adams and Farrar have done much of the interior buildout themselves, along with a small crew from Treiber Building.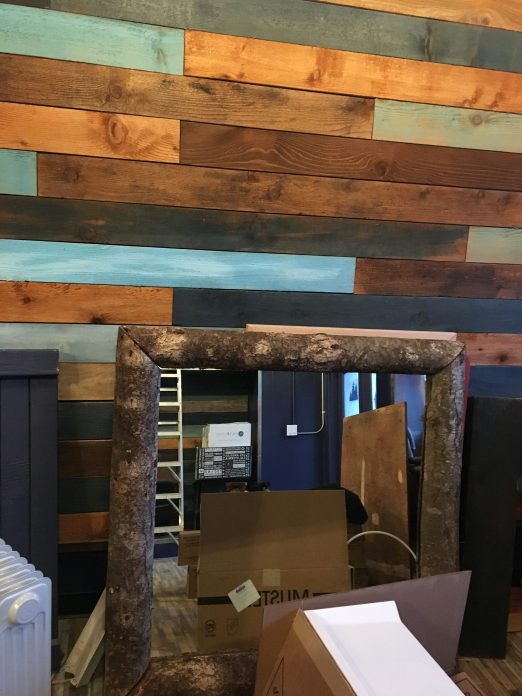 The interior plays up on the name with attractive wood-looking flooring (that's really luxury vinyl), a 24-foot-long wooden bar, old cedar fencing (above) on some of the interior walls which they've painted, reclaimed wood, some of the old chairs from the Fremont Theatre, and a large mirror framed in timbers. Farrar said working with the old building has been challenging.
Local artist David Johansson created a forest mural, which hangs behind the bar (top photo). A long communal table will seat 12 to 14 people in the upstairs area, with more seating in half-booths and ottomans downstairs. The downstairs area will be what the partners call more of a "speakeasy" with an edgy feel, harkening back to the days when gay bars had to "hide out."
Total capacity inside is 96, but in the summer they will be able to seat 40 to 50 more in a fenced outdoor patio. Plans are to have "Yappy Hours" when you can bring your best four-legged friend – only on the patio. There are restrooms on both levels, and a changing room for entertainers. Upstairs there is a small area for live entertainment and the sound system. With four big-screen televisions upstairs and two downstairs, they will screen Seahawks and Sounders games, playing music videos on non-game days.
Once open, they will have a total of 12 staff – Farrar still works as a systems analyst for Starbucks, a career he's had for 18 years, but both he and Adams will be very involved day by day. Hours will be 4 p.m. to midnight Monday – Thursday, 2 p.m. to 2 a.m. Friday, noon to 2 a.m. Saturday and noon to midnight on Sunday unless there is a game, when they will open earlier and serve brunch. They also will have a teachers' happy hour from 2-6 p.m. on Friday.
You can follow any responses to this entry through the RSS 2.0 feed. Both comments and pings are currently closed.