JUBILEE DAYS 2017: What you need to know about where this weekend's street fair and parade are happening
The weekend's getting closer – and here's what you need to know about the different layout (and street closures) for the Jubilee Days street fair and other events on Saturday and Sunday: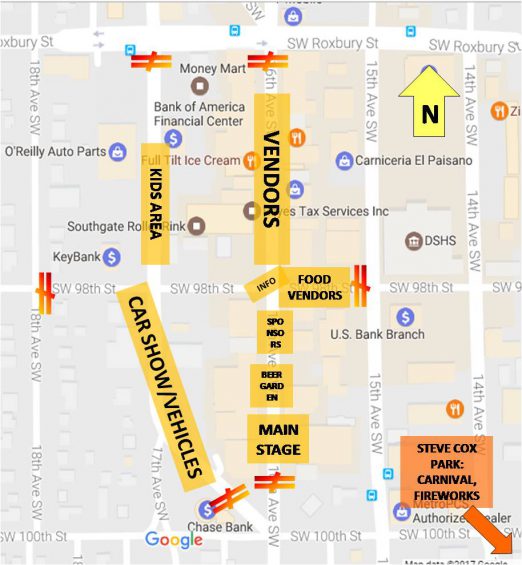 Note that 16th and 17th SW will both be closed between Roxbury and 100th, as will 98th between 15th and 18th, 6 am Saturday morning through about 11 pm Sunday night.
*Street fair and main stage (music lineup here) on 16th
*Food on 98th
*Car show/kids' area on 17th
On Sunday, the parade closure will be 9 am-1 pm on 16th SW between SW 100th and SW 116th. The parade starts at SW 112th at 11 am and runs north from there – more info here.
And check out the Jubilee Days site for tons more info! Organizers point out that local businesses in particular have stepped up in a BIG way this year, more than ever, so be sure to hang out with them throughout the weekend – we'll have another event-specific preview on Friday.
You can follow any responses to this entry through the RSS 2.0 feed. Both comments and pings are currently closed.