Evergreen Aquatic Center gets $5,000 grant to help with showers and swim lessons for people in need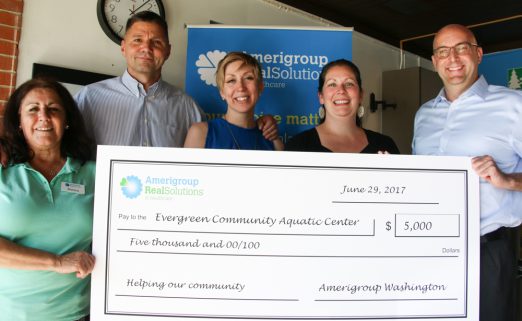 (White Center Now photo by Patrick Sand)
That was the happy scene at Evergreen Community Aquatic Center on Thursday afternoon, as Amerigroup Washington reps formalized a $5,000 donation. The money will help pay for families experiencing homelessness to continue using the showers there, and to use the pool for swimming lessons and open- and family-swim sessions. Earlier this week, we mentioned the shower usage as part of our followup on the Mary's Place-operated shelter in White Center, and that organization is a partner in this project, along with Neighborhood House. The announcement explains:
… This effort began when all four organizations gathered to explore the possibility of using the pool showers as a temporary showering facility for residents at each homeless shelter. Many of these families do not have showering facilities and the new Mary's Place Family Center shelter in White Center only has one shower available, while two others are being added. Upon further discussions, the opportunity to increase access to swimming and water safety lessons also came about as part of this partnership. …

This money will support the support staff, issuing of towels and a voucher system to allow these residents to come to the pool with a user pass during regular operating hours to use the facilities. This sponsorship can also will support over 150 full session swimming lessons (8 classes per session) and /or full use of the family swim and open swim times at the pool.
You can follow any responses to this entry through the RSS 2.0 feed. Both comments and pings are currently closed.