VIDEO: White Center shelter plan might change, Steve Cox Memorial Park's field will change, & more @ North Highline Unincorporated Area Council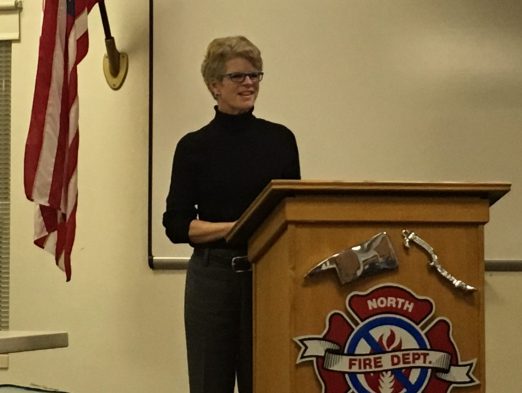 (WCN photos and video)
By Tracy Record
White Center Now editor
Another intense meeting for the White Center area's community council, the North Highline Unincorporated Area Council:
ADRIENNE QUINN: The director of King County's Community and Human Services department, ultimately accountable for the proposal to set up a shelter in the former Public Health building at 8th and 108th, faced a full house. She said she wanted to talk about the original proposal and "where we are now" with it.
She said there are "a lot of misunderstandings about who people who are who are homeless…. The #1 reason for people under 25 are that they are gay, lesbian, transgender, thrown out of their homes … the #2 reason (for people under 25 to be homeless) is that they have been in foster care and have been thrown out of their homes … For women and families, the primary reason people become homeless is domestic violence, fleeing dangerous situations, their credit has been ruined, it's difficult for them to get an apartment. … For adult men, right now, 31% are veterans over the age of 55 … another reason is untreated mental (illness). … 1 in 4 people (in general) have an untreated mental disorder … if you are homeless, you don't have a place to carry your medication, you may not have a doctor, but if we are able to bring people inside, we can stabilize them … There's a lot of discussion about crime and homelessness. People who are homeless are much more likely to be victims of crime than to (commit crime)."
She mentioned the 100 unsheltered people found in the White Center area during the most-recent One Night Count."We have heard for many years, do something about the people who are homeless … So King County has been looking all over the county, looking for any available resource … to bring people inside … to help them get back on track. We identified the WC Public Health Clinic, several other buildings around the county, one in Kenmore, one in Bellevue … we began to explore that this spring …" She went on to describe why the building in WC seemed suitable, "to bring a shelter to WC to help people who are here right now, to work on case management, to try to stabilize them, to help people move through shelter in 30 days." She said studies from around the country have shown that can be successful. And she pointed out that "many people who are homeless actually work" and need someplace to leave their belongings.
"We are continuing in exploration mode," Quinn said, saying (this section of her speech is in the video clip above) that they are exploring the possibility of the shelter starting with a small population, being offered to families – if there are enough homeless families in this area – instead of the previously planned singles/couples, and being open 24/7 so that there would not be a daily discharge of people onto the street. She also said the small group that met two weeks ago for a discussion of this would meet again one week from tonight.
Opening Q/A, NHUAC president Liz Giba said that the concentration of poverty in White Center remains a concern. Quinn said that they are trying to help homeless people in WC to alleviate that.
Next, an attendee who lives in the area accused Quinn of lying and putting a "spin" on things. He claimed the plan has been in place since last November; she said that wasn't true. He said they have a public-records request in for information, and that an online petition has collected 1,000 signatures, and that there's crowdfunding to bankroll the records request. "You picked the wrong location …we're going to get to the bottom of this." He talked about problems happening in the park and near the clinic right now; Quinn said that getting people indoors would be the remedy for that.
NHUAC vice president Barbara Dobkin said she is concerned that more homeless people are turning up in White Center because they are being "pushed out of Seattle." She cited situations such as the West Seattle Junction bus-shelter closure plan.
In other questions, she tried to clarify the "no-barrier" concept – not necessarily that people are going to be allowed in to shoot up, but that "if they have a little alcohol on their breath, we're not going to turn them away." She also said this would not be like the "navigation center" that Seattle is considering.
Another attendee brought up some contradictions in what Quinn was saying here and what they heard at the September 15th meeting. She noted that the shouting at that meeting was unsettling to some of the people at that meeting. (One thing that emerged – they're looking at "portable showers" for the building, which otherwise was described as not being set up for shelter stayers to be able to take showers.)
One attendee said she had heard about what was recommended for helping ease Seattle's homelessness problem; Quinn said that the county and city had declared an emergency to try to get the federal and state governments to help.
Another attendee challenged the contention that White Center had 100 people unsheltered during the One-Night Count, saying law enforcers had told them they had seen far fewer. Quinn tried to draw a distinction between people who are visibly homeless and those living in vehicles. She was asked why the people on the street aren't getting help now; she said that outreach is being done.
Asked about shelters in residential areas, near schools, Quinn pointed to Our Lady of Guadalupe in West Seattle, which hosts a shelter. Small population, though, she acknowledged on followup.
Many of the questions and concerns voiced had to do with discrepancies between numbers cited in previous communications/meetings and what was being said here. Seattle displacement was cited, and at one point, Quinn said, "That's a city of Seattle issue." But she acknowledged the county is having issues too – she said she had heard from people in mobile-home parks who were getting forced out, too. Quinn added that her department is working with the King County Housing Authority, giving them a line of credit to "preserve at least 2,000 units" of affordable housing. They've bought four apartment buildings, she said.
She was also pressed on a variety of points about the county's shelter operations. How many buildings? More than 70. How many people? About 2,000.
NHUAC board member Christine Waldman said a list of possible alternative locations was provided to the county and "there's got to be someplace else that this can go." Quinn said they are "looking at facilities that are safe to be inside right now … some are so rundown as to not be safe."
NHUAC board member Elizabeth Gordon said the shelter plan needs to be viewed through an equity/justice lens for this community; Quinn had mentioned that they were using a more-regional assessment for that kind of information. Giba reinforced the point a few minutes later, and also addressed it to King County Council chair Joe McDermott, who was in attendance but did not speak.
Quinn was asked who is involved in the "core group" that will meet again next week – "15 or so people," including three from NHUAC, "to really talk about, get into more detail about a lot of these issues people are talking about" in relation to this, including safety. She said that the work group's eventual goal is to "come back to a larger community meeting" (as promised in the September public meeting), before year's end.
One of the last comments to her was, "Don't force us to read between the lines. Be radically transparent with us."
CASCADE MIDDLE SCHOOL PREVENTION TEAM: Before Quinn spoke, three students and their adviser (from a team of about 20 students) spoke to the meeting, saying they have been doing cleanup work in Dick Thurnau Memorial Park and are concerned about the possible shelter being near the park and their school.
The students read statements they had written, and their adviser showed petitions that they had circulated, saying they collected more than 120 signatures. We recorded them on video – see and hear for yourself above. (During Adrienne Quinn's time at the front of the room, NHUAC board member Elizabeth Gordon got Quinn to commit to following up on the students' request for someone from the county to come speak with them.)
STEVE COX MEMORIAL PARK FIELD RENOVATION PROJECT: King County Parks reps Frana Milan and Tri Ong talked about this, saying it's "just getting rolling" – improvements to "the fields outside of the stadium" – Fields 2 and 3, "currently underutilized." They're intended for youth baseball, but "frequently not even usable for the amount of use scheduled there, because of drainage problems." Milan said there's a higher demand, not just for traditional sports but also Ultimate Frisbee and lacrosse. She said 75 people were surveyed over the summer, and 40 percent of them use the fields in question for pickup sports. What would make it a great park? they asked. As a result of the replies, they're trying to design the fields to serve local use, diversify possible uses, expand playable hours, and enhance public safety. Milan showed a rough design: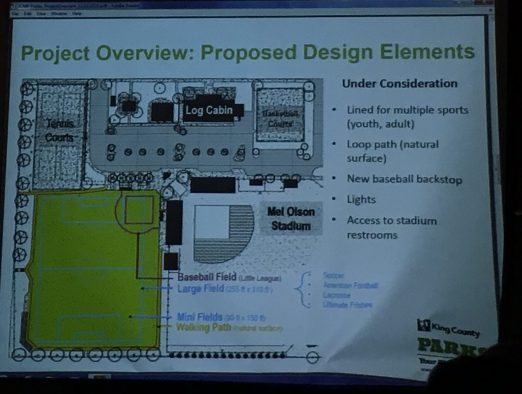 And she showed Walt Hundley Playfield in West Seattle as an example of "what we're thinking about." Synthetic turf is being considered, as are lining for multiple sports, a natural-surface walking path, new backstops, lighting around the perimeter, and access to the restrooms that face the stadium, so they could be accessed from the side of the field. Of those, survey respondents supported restroom access, lighting, and a walking path most strongly. With design under way, it should reach 90 percent in a year, then be built in spring/summer of 2018, concluded by fall of that year. The King County Parks budget already has $1.7 million allotted for this and is hoping for $1.6 million more in the current budget. Attendee questions asked mostly about funding and possible other sources for it. Separate from this project, the stadium is getting a new roof soon, said Ong, and parking-lot repaving is expected to happen next spring, along with ADA-compliant curb ramps.
One point of interest that emerged while attendees were asking questions: Jubilee Days would not be able to use Steve Cox for fireworks shows once these changes are made.
RESIGNATION: Gordon said she is no longer working in the unincorporated area so she needs to resign from the NHUAC board, and urged anyone interested in "positive community engagement" to get involved. President Giba led a round of applause, saying that Gordon has "been awesome."
COMMUNITY ANNOUNCEMENTS: NHUAC board member Pat Price announced plans for a Festivus celebration on Friday, Dec. 9, at White Center Eagles, dinner/auction, and the White Center Library Guild's book sale/holiday sale 11 am-4 pm Friday and Saturday (November 4-5) at the library … The White Center Kiwanis will have a meet-and-greet November 30th at Proletariat Pizza, 6:30 pm – "free pizza, and come see what we're about" … The Kiwanis's candy-bar sale, $2.50 for See's bars, continues … Mark Johnston talked about the marijuana laws and said one licensee in the Top Hat area is looking to move to Federal Way.
The North Highline Unincorporated Area Council meets first Thursdays at 7 pm at NH Fire District HQ.
You can follow any responses to this entry through the RSS 2.0 feed. Both comments and pings are currently closed.