April Pool's Day success, and more, at Evergreen Community Aquatic Center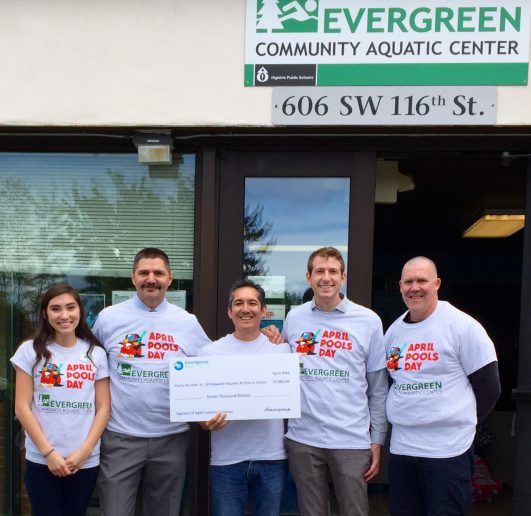 Bryan Hastings from Evergreen Community Aquatic Center says April Pool's Day this past Saturday brought "a fantastic showing": About 100 kids! The day included a special check presentation for a grant that will make water-safety learning affordable for even more – he shared the photo and the official news release:
Every day, about ten people die from unintentional drowning, according to
the Center for Disease Control and Prevention. Of these, two are children aged 14 or younger. Drowning
ranks fifth among the leading causes of unintentional injury death in the United States. On April Pool's
Day, State Representative Joe Fitzgibbon, joined Amerigroup Washington as they presented a $7,000 check to Evergreen Community Aquatic Center to increase the number of swimming lessons for about 1,500 underserved children in the Puget Sound area.

"We are incredibly grateful for the support and partnership of Amerigroup Washington, because without their support Evergreen Community Aquatic Center would not be able to impact so many underserved kids and teens this year," said Bryan Hastings, White Water Aquatics Management Board President. "With this grant, we hope to continue to provide much needed swimming instruction and water safety programming to kids who need it most."

As summer approaches, the number of local youth visiting a local pool or (body of water) will also increase.

Thanks to the donation from Amerigroup Washington, Evergreen Community Aquatic Center will be able
to provide life-saving instruction for more children across King County. Swimming lessons empower
youth to be well prepared for emergency water situations. The swimming instruction provided at the
Center also provides training on how to properly wear a life jacket and teaches each participant with
rescue skills that will enable them to swim their way to safety should they experience an unexpected

"Swimming enables kids and teens to stay active and physically fit. That's why we support Evergreen
Community Aquatic Center, to help ensure that our youth build life-long healthy habits with a strong
understanding in water-safety," said Daryl Edmonds, president of Amerigroup Washington. "The
Evergreen Community Aquatic Center is working to build secure futures for our local youth by helping
them stay safe while participating in healthy water activities."

State Representative Joe Fitzgibbon attended the April Pool's Day event, where Evergreen
Community Aquatic Center and Amerigroup Washington celebrated the joy of swim by providing water
safety activities and free swim time for local families and community members. The Center raffled off
free life jackets, free swimming lessons and other door prizes.

For more information about water safety and how you, or someone you know, can sign up for reduced-
priced swimming lessons, call (206) 588-2297.
You can follow any responses to this entry through the RSS 2.0 feed. Both comments and pings are currently closed.