UPDATE: Mini-mart fire response in Top Hat blocking SW 112th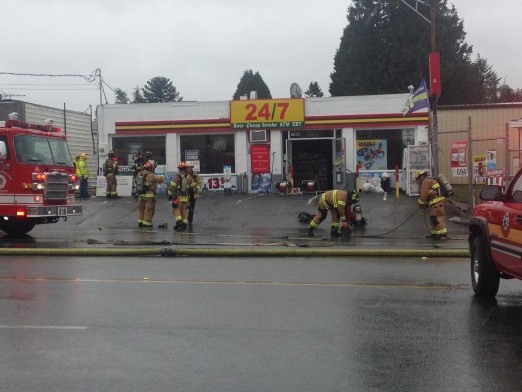 (WCN photo)
2:03 PM: Big fire response in Top Hat this afternoon, at the convenience store in the 11000 block of 1st Avenue South. Along with North Highline Fire District, the Seattle Fire Department sent help via mutual aid. Our crew is there and says there's not much damage visible from outside but crews are using fans to ventilate the mini-mart. Also, SW 112th is blocked right now because of the response. Regional media is at the scene too and we're expecting a briefing shortly with details of what happened.
2:27 PM: Firefighters tell us that the fire involved vehicles behind the mini-mart, which explains why nothing's obvious from the front. Our crew is finding out more from the chief at the scene right now.
ADDED: From comments – Erik's video taken early on during the fire:
You can follow any responses to this entry through the RSS 2.0 feed. Both comments and pings are currently closed.