UPDATE: Power back on after more than 3,500 lose electricity in east White Center, Top Hat, parts of Burien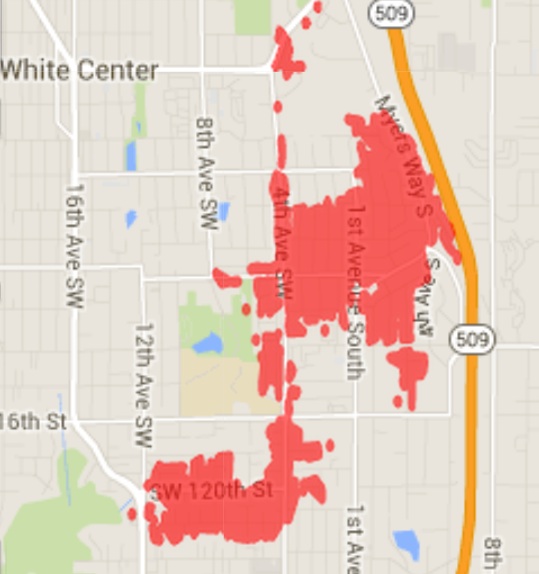 (Above, the White Center/Top Hat section of the outage)
2:08 AM: Thanks to Alisha for the tip: The Seattle City Light map confirms a big power outage – in two distinct areas, primarily east White Center, Top Hat, and north/northwest Burien. More than 3,500 customers (homes and businesses) are affected. No word yet what caused it; it started around 1:45 am. We'll update when we find out more.
2:46 AM: Most of the Burien customers have their power back, according to SCL. Still no word on the cause.
4:36 AM: The cause is now listed on SCL's site as "tree." No elaboration. And the number of customers out of power is down to just under 700.
UPDATE: Here's the final word from City Light (with whom we'll follow up on Monday to find out about WHERE the tree went into the lines):
Power has been restored on 2 am outage in Burien/White Center. The cause was a large tree in the lines.

— Seattle City Light (@SEACityLight) August 23, 2015
You can follow any responses to this entry through the RSS 2.0 feed. Both comments and pings are currently closed.