White Center businesses: B & D Aquarium, one of a kind
EDITOR'S NOTE: Earlier this year, a reader sent us a postal-mail letter worrying about the future of White Center's B & D Aquarium, the only aquarium-supplies store for miles around (West Seattle, for example, has none). He asked us to do a story. Took a while, but here it is.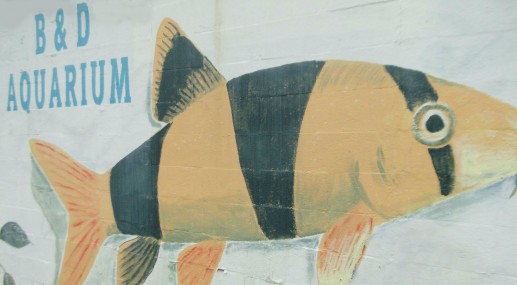 Story and photos by Randall Hauk
Reporting for White Center Now
"I've been hanging on so long, I'll hang on as long as I can."
Being a brick-and-mortar retailer these days can be a challenging prospect, even for businesses which have accumulated decades of expertise in their industry while serving their community.
Such is the case with White Center's B & D Aquarium, regarded by many Puget Sound-area hobbyists as a valuable resource for serious hobbyists, who rave about the shop's incredibly knowledgeable staff and the intense care paid to keep healthy stock available.
B & D's owner, who prefers to be identified only as P.D. ("That's what all my friends call me."), started his business in 1972, originally located at 35th SW & Roxbury. Listen to P.D. tell his story:
The current location at 10450 15th Ave SW (next to the White Center Eagles, with a large Clown Loach painted on the north-facing side) is the fourth iteration of the store.
Between P.D. and his two employees, B & D Aquarium staff offer knowledge compiled through more than 100 years collectively in the business, which started and has been maintained all through the passion of a true hobbyist. In addition to all the advice and equipment needed to start and maintain your home aquarium, B&D Aquarium's 70 tanks offer a variety of fish from "all over the world . . . except Antarctica."
A year after quitting his aquarium-shop job, P.D. found himself missing the atmosphere of being surrounded by fish, especially after having had to get rid of most of his 52 tanks at home due to the expense. In an early '70s version of crowdfunding, P.D. opened a shop with "the help of friends and donated tanks."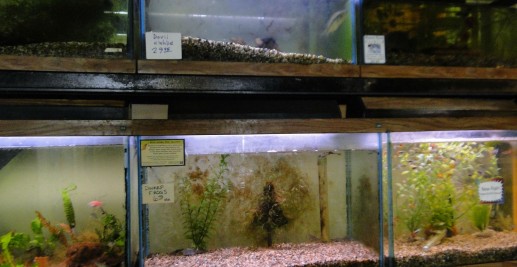 When the shop found itself in need of a new home, "customers and ex-employees all came in to help move," says P.D. And though he also says he was "lucky to find this place," four years later, B & D hasn't entirely recovered fiscally from that move, as his humble business has struggled to compete with larger pet shops and online retailers.
"I've seen (chain pet stores) selling equipment for less than our wholesale cost," says P.D. of the challenges in staying competitive. "People tell me, 'We bought our stuff somewhere else because it was cheaper, but we come to you for advice because you know what you're talking about."
The loss of revenue from that segment of their potential customers already forced B & D to get out of the saltwater side of the aquarium business several years ago. Advising people who were not spending money in their shop was also taking too much time away from the time needed to properly care for the fish they have on hand.
And for P.D. and his colleagues, all dedicated hobbyists themselves, taking shortcuts to create time and reduce operating costs is simply never a consideration.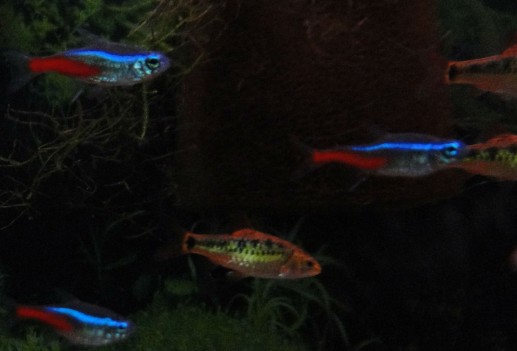 In order to assure the fish he sells leave the shop in good health, P.D. says, "they have to be treated, quarantined, and watched. We make sure they're 100% healthy, which takes ten times as much work as making sure they're even 99% healthy."
His love for the hobby and the fish themselves also can get in the way of cynically taking every dollar that presents itself at his cash register.
"I spent far too much time talking people out of buying things to be profitable!"
That level of dedication is precisely what draws hobbyists from throughout the greater Puget Sound region for their aquarium needs. It also speaks to why B & D has such a loyal, if small, customer base. Spending the extra money on the fish initially saves them later on the cost of chemicals and other treatments that follow fish not properly prepared for the move to a home-aquarium environment.
But how do people get drawn so strongly to a hobby that requires significant expense and effort to maintain? Perhaps even to the point of running a struggling shop for forty-plus years?
"It's a spiritual experience," explains P.D.. "It can lower your blood pressure. They prescribe it for hyperactive children. It can really open your eyes . . . (one gets a) completely different understanding of the whole universe."
"It can be wonderful."
You can follow any responses to this entry through the RSS 2.0 feed. Both comments and pings are currently closed.