Speaking of giving … How West Seattle Academy students helped save animals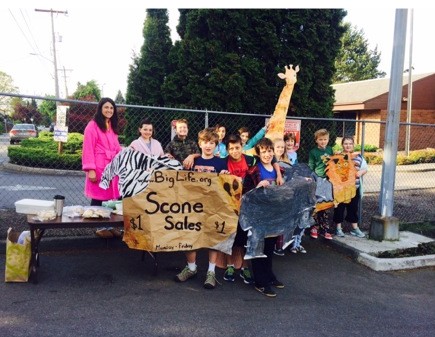 Students at West Seattle Academy (11215 15th SW) know the power of something simple. Heather Aquino shared the photo and explains:
Last week West Seattle Academy was up to something AWESOME. They sold scones during morning arrivals to support Big Life Foundation. Big Life is a anti-poaching group in East Africa. Scones were sold for $1 each and these kids raised $750!

Big Life was the first organization in East Africa with coordinated cross-border anti-poaching operations.

As of July 2013, Big Life's rangers had made 1,030 arrests and confiscated 3,012 weapons/poaching tools since November 2010. Recognizing that sustainable conservation can only be achieved through a community-based collaborative approach, Big Life uses innovative conservation strategies to address the greatest threats, reduce the loss of wildlife to poaching, defeat the ivory trade, mitigate human-wildlife conflict, protect the great predators, and manage scarce and fragile natural resources.

Big Life's vision is to take the successful holistic conservation model in the
Amboseli-Tsavo ecosystem and replicate it across the African continent.
You can follow any responses to this entry through the RSS 2.0 feed. Both comments and pings are currently closed.