Guilty plea in 2012 murder of White Center advocate Margaret Ryan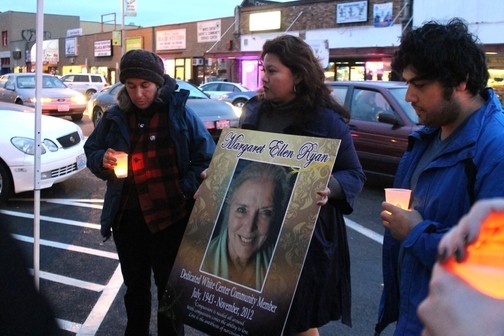 (December 2012 gathering honoring murder victim Margaret Ryan)
3:30 PM: More than two years after the murder of 69-year-old Margaret Ryan in her White Center apartment, her son has pleaded guilty to stabbing her to death. The case against 44-year-old Brodie Lamb has dragged on for so long because of issues including whether he was mentally competent to stand trial; we have been checking in on the court files periodically over these many months and have noted that he spent time at Western State Hospital as well as jail. Lamb pleaded guilty this morning to the reduced charge of second-degree murder as the result of a plea bargain. The King County Prosecuting Attorney's Office will recommend 20 years for Lamb, plus two years' enhancement for use of a deadly weapon. He had a prior record including assault convictions; in one case, his mother was the victim. According to charging documents filed in November 2012, she wouldn't allow him into her apartment, so he broke the door down and killed her. We are checking with prosecutors to find out when he will be sentenced.
4:28 PM UPDATE: The sentencing is scheduled for 1 pm February 20th at the County Courthouse downtown.
You can follow any responses to this entry through the RSS 2.0 feed. Both comments and pings are currently closed.