White Center-West Seattle Health Center now open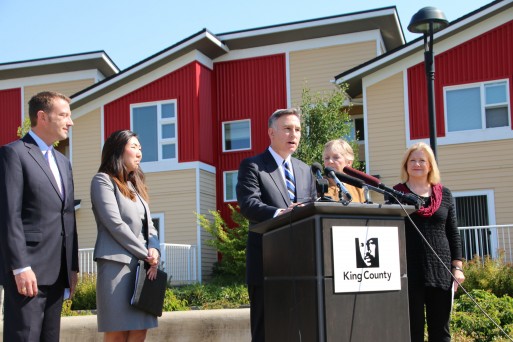 (WCN photo from September 2014)
Four months after King County Executive Dow Constantine announced at Greenbridge that the public-health clinic there would be saved thanks to a partnership with Planned Parenthood, PP has officially merged its clinic into that location. Here's their announcement:
Planned Parenthood of the Great Northwest (PPGNW) (has moved) its West Seattle Health Center to a new location at 9942 8th Avenue, just over one mile from the current location. The facility, previously the Public Health Center at Greenbridge operated by Public Health—Seattle & King County, will open as the new White Center-West Seattle Health Center.

In 2014, the Public Health Center at Greenbridge was proposed for closure due to a severe budget shortfall at Public Health—Seattle & King County. However, through partnerships with PPGNW and the City of Seattle the health center will be operated by PPGNW for the next two years, as local leaders pursue longer-term funding.

"We are thrilled to be opening our new facility in West Seattle," said Chris Charbonneau, CEO of PPGNW. "Our important partnership with King County and Seattle Public Health will bring continued support and service to the local community by providing high-quality, affordable reproductive health care for the women, men, and teens who need it most in West Seattle and the surrounding area."

The new White Center-West Seattle Health Center will be open five days a week and offer a full range of high-quality reproductive health care, including affordable access to birth control, well-woman visits, breast and cervical cancer screening, emergency contraception, sexually transmitted infection (STI) testing and treatment, abortion services, and comprehensive sexual health education and information. Planned Parenthood educators will offer comprehensive sexual health education, youth development programming and parent education for schools and community agencies.

In addition, patients can schedule appointments, or receive mail-order contraceptives and test kits for sexually transmitted infections via webcam. This online tool serves as an opportunity to reach individuals living in remote communities across the region.

For more than 30 years, PPGNW has partnered with King County Public Health to provide comprehensive family planning services. PPGNW will continue its partnership and collaboration with the city and county to ensure a smooth transition of patient care.
You can follow any responses to this entry through the RSS 2.0 feed. Both comments and pings are currently closed.