Update: Man stabbed in White Center, no arrest yet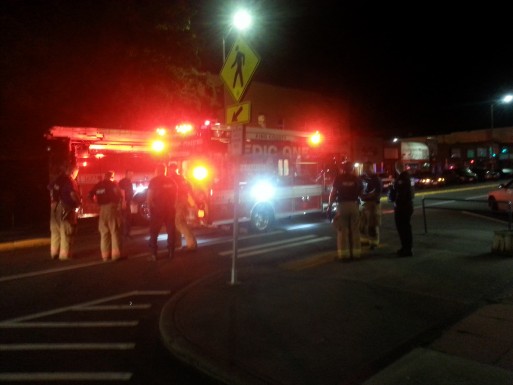 (Photo courtesy Tim Clemans)
ORIGINAL 1:38 AM REPORT: A search is under way for someone suspected in a stabbing reported in downtown White Center. According to a radio transmission asking for Seattle Police to be on the lookout, someone was stabbed at the Locker Room Tavern on 16th SW. We don't know the circumstances or condition, but a search is under way now (with a possible suspect spotted in West Seattle). We hope to find out more about this later in the morning, too.
8:55 AM UPDATE: According to King County Sheriff's Office spokesperson Sgt. DB Gates:
The stabbing was between two men who were acquaintances, and they were both intoxicated. After both were refused service in the Locker Room Tavern they were outside talking for a while when for unknown reasons the suspect stabbed the victim in the back. The suspect left on foot and a K-9 track didn't locate him. The at-large suspect is described as a Native American male about 5'10" and 160 pounds with what is described as a mullet hairstyle. He was last seen wearing a blue jacket and (in possession of) a baseball hat. The victim was uncooperative with deputies so it's unknown if he will= assist in prosecution. His injuries were said to be life-threatening, but I've had no further update on his condition since shortly after the incident.
You can follow any responses to this entry through the RSS 2.0 feed. Both comments and pings are currently closed.