Video: King County Executive Dow Constantine gives 'State of the County' speech at White Center Heights Elementary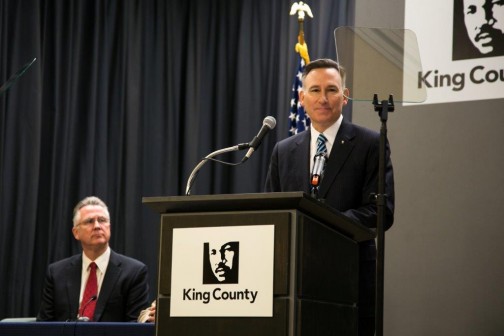 1:05 PM: Just added the top photo (that's Councilmember Larry Phillips at left), courtesy of the KCE staff – and here's the full-speech text.
ORIGINAL REPORT, 11:34 AM: Here's the State of the County speech as it unfolded via Twitter over the past hour and a half. If you don't see the tweets and photos initially, you might have to refresh your screen once or twice:
This afternoon, the King County Council is back in its HQ at the County Courthouse downtown, for the regular 1:30 pm meeting, which includes votes on whether to send the Transportation Benefit District measure – license-tab fee/sales-tax increase for buses and roads – to the ballot, as well as the Metro cuts that might kick in starting in June if funding isn't found via a ballot measure or the Legislature.
ADDED 3:06 PM: Video of the SOTC speech, provided by King County TV:
You can follow any responses to this entry through the RSS 2.0 feed. Both comments and pings are currently closed.