New 'retail warehouse' Northmart coming to White Center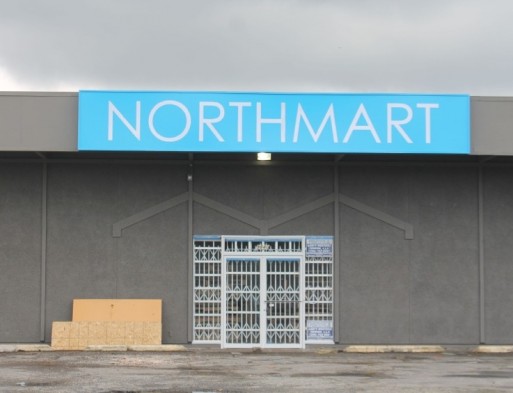 2:46 PM: Thanks to Gill for the tip on the signage that suddenly appeared on the former NAPA Auto Parts building at 9841 15th SW (our photo shows its west side facing 16th), sold to a Southern California buyer earlier this year. We've been working to track down information on Northmart, and the most information so far has come up in a help-wanted ad, which says the store is the company's first in this state, and that it will be an 11,000-square-foot "retail warehouse" that will "sell a variety of products." We'll update when we find out more.
3:51 PM UPDATE: Just talked with the leader of the team setting up the store. He says so far, this company has one in Los Angeles, but in addition to the White Center store, is working on one in Shoreline, and then plans to set some up on the East Coast. It is both a wholesaler and a retailer open to the public – right now, while they are sending out merchandise to national customers, they are not yet open to the public; that's still likely a few weeks away. They will stock and sell a variety of merchandise from luggage and backpacks to clothing, shoes, accessories, and the quantity of merchandise sold is up to the customer – they can sell you a trailer full or just one. No food – just manufactured merchandise, much of which is made by associated companies. This location is going to be their wholesale/shipping hub in this area as well as on-site retail, and that's why it's so much bigger, 11,000 square feet compared to the 2,000-square-foot store they'll have in Shoreline.
You can follow any responses to this entry through the RSS 2.0 feed. Both comments and pings are currently closed.