White Center coffee: Caffé Delia moving into its own space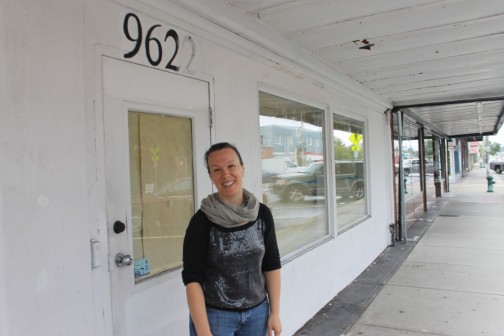 Since opening two years ago, Caffé Delia has been based inside the Proletariat Pizza storefront, in a time-sharing/space-sharing environment – open during hours when PP wasn't. But now there's big news, announced on the CD Facebook page:
It is with legitimate excitement and some degree of "holy shit!" that we are posting to tell you all that Caffè Delia will be moving into its own cozy little space in the heart of White Center.

It's going to be right next door to where we are now. It will be very easy to find.

We have said this many times, but it bears repeating: We love White Center, and love to work at making great coffee for you all.

We had one goal when we started: make delicious coffee in Rat City. That is what we are going to keep doing.

One thing, and you are going to have to bear with us on this one. In order to open up our new joint, we are going to have to close our little coffee stand. Caffè Delia, Inside Proletariat Pizza, will be open every day until October 13. Then we will be closed until we open again right next door.

We'll see you around for the next 3 weeks. And then, we'll see you in a few.
The new space is part of the former Dzul Tattoo storefront, immediately south of PP; Proletariat, as reported here previously, has already taken the other part.
You can follow any responses to this entry through the RSS 2.0 feed. Both comments and pings are currently closed.