Dedication Tuesday for new play area at North Shorewood Park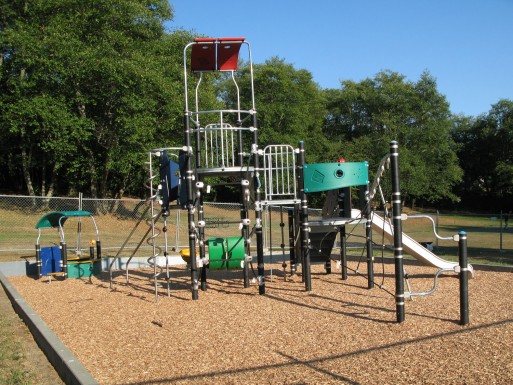 We first heard about it from tipster Gill (who also shared the photo), while the work was under way – and now, not only is the North Shorewood Park play area open, there's a dedication event planned tomorrow:
Everyone is invited to join King County Parks in celebrating the grand opening of a new play area at North Shorewood Park on Tuesday, Sept. 17 from 5-7 p.m., with the official program commencing at 5:30 p.m. The park is located at 24th Avenue Southwest and Southwest 102nd Street in White Center.

The new playground equipment replaces outdated equipment that had reached the end of its lifecycle, and features a slide and other interactive elements for children aged 3 – 12 years old. The $117,000 project was funded by a grant from the Community Development Block Grant program and by the 2007-2013 Open Space and Trails Levy.
You can follow any responses to this entry through the RSS 2.0 feed. Both comments and pings are currently closed.