After the arrests, the gathering: Community discussion on White Center safety, but 'no magic wand'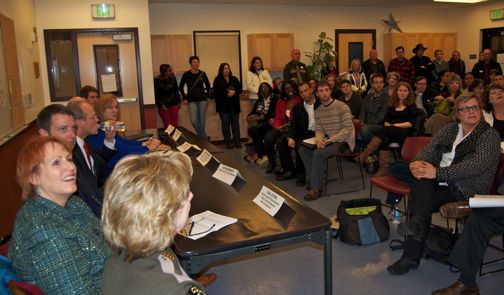 (Photos by Deanie Schwarz unless otherwise credited)
By Deanie Schwarz
Reporting for White Center Now
A gathering in Greenbridge last night was an offshoot of the dramatic events last week, when the U.S. Attorney's Office promised to follow up with the community leaders and residents of White Center about Thursday's multi-agency sweep netting dozens of arrests and seizing dozens of guns, while also confiscating drugs. The room was filled beyond capacity last night, with at least 70 people from citizen and nonprofit groups as well as business owners and local residents
This type of meeting was a first for the federal prosecutor's office, convened to organize and forge alliances in White Center – an area near to where panel members were raised or their family ran a business. The meeting was also unique because the common concerns brought together nonprofit and citizen groups, businesses and residents – many who had never been in the same meeting room before.
The objectives were to answer questions about the investigations and ongoing concerns (here's our most recent report), and then to strategically determine what the consequences of that multi-agency task force will be for the community. Durkan noted that that is ultimately up to the community members themselves and will require "follow-through," but that the officials present – elected and law-enforcement – remain committed to working with the community leaders toward enlarging engagement and finding solutions.
Thomas Bates, Executive Assistant U.S. Attorney, will be the point person from that office and will be communicating with those attendees who signed in at this meeting (his contact information is below for those who could not attend). Bates told WCN that the results of the meeting will be discussed and processed at their office. As Durkan suggested, an as-yet-to-be-determined advisory group of community members will execute "to do" lists with specific tasks to move forward with initiatives and objectives.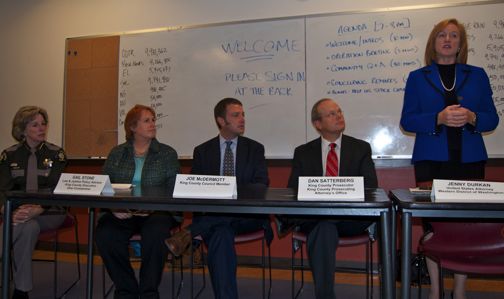 Elected officials from the county and state had not been informed in advance of the joint operation dubbed "Center of Attention," nor had any of the community groups that interact regularly with local law enforcement. The confidentiality of the mission was essential in the pursuit of its undercover strategies to "dig deep" into the area, according to Durkan. Both Sheriff Sue Rahr and Major Jim Graddon of King County Sheriff's Office spoke to the challenges of their obligation to keep the information confidential for the better part of six months.
King County Councilmember Joe McDermott, 34th District State Reps. Eileen Cody and Joe Fitzgibbon, and Gail Stone, a policy adviser representing King County Executive Dow Constantine were present and listening with County Prosecuting Attorney Dan Satterberg as Durkan told the gathering that there is "no magic wand" that can be wielded by the group of commited officials on the panel, but that everything is already present within White Center to become a successful community. Panelists spoke to the impressive amount of concerned attendees and though it wasn't mentioned by anyone present that October happens to be the National Crime Prevention Council's official Crime Prevention Month, the discussion was how to do just that – reduce crime in the unincorporated area of North Highline and the business district of White Center and completely take back the streets.
Sheriff Rahr acknowledged a daunting challenge: How to overcome the lack of financial resources available for law enforcement in unincorporated North Highline and how that fact affects when and whether deputies can respond to heavily prioritized calls. Durkan pointed out that as federal prosecutor, she is not bound quite the same way, but also said that regardless, citizens need to call 911 and report the crimes and suspicious behavior they are observing even if they do not receive the response they desire from the operator or from the deputies. The total number of calls are relevant and are used in the allocation of resources, according to Durkan. If nobody calls, then the call numbers are lower and fewer resources are allocated.
One of the first speakers suggested that another meeting be called immediately by the prosecutors strictly to "correct the media." "White Center gets credit for every crime west of I-5!" he lamented. Another asked how to support the families of any elementary-school children who might have a parent incarcerated as a result of the investigation; another implored the officials to make sure that all levels of school administrators are contacted to ensure older children are assisted too.
The owner of Full Tilt Ice Cream in central White Center wondered how the deleterious presence of street people openly consuming alcohol can be addressed. It appeared to him to be one of the biggest deterrents to potential customers entering the business district. Also related to alcohol consumption, a member of the South Delridge/White Center Community Safety Coalition wondered if there could be a cap on the number of alcohol-related establishments, saying "Do we really need more than 14 alcohol-related businesses?" It was suggested by the prosecutor that there might be other alternatives to research beyond AIA's (Alcohol Impact Areas) and they will be doing that. And the feasibility to establishing a Business Improvement Area (BIA) through the county will be researched, she added. A BIA could potentially offer tax incentives to make White Center attractive to the type of businesses the community wants to see move in.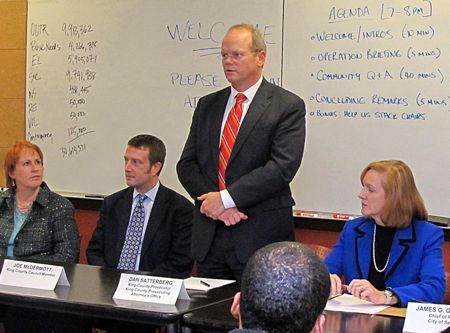 (Photo by Dina Lydia Johnson)
Prosecuting Attorney Satterberg advised that public drunkenness is not itself illegal, but that the open-container issue may not be a high-priority item for the deputies who are prioritizing 911 responses on a tight budget. But the presence of the new Storefront Deputy BJ Myers, interjected Sheriff Rahr, can address these types of problems. Deputy Myers has only been on the beat a week and is still making the rounds to businesses to introduce himself and determine what his priorities will be based on those conversations. Beyond the Storefront Deputy, Major Graddon emphasized that future solutions, he thought, must be "holistic," something more than simply putting chronic drunks into jail.
Another alcohol-related concern: How can one of the investigated businesses stay open after federal investigators searched the premises? Durkan said that the Liquor Control Board is still doing its separate investigation, which will soon be complete. It is her expectation that that business will not be conducting business in the same manner and that the community should be aware that law enforcement agencies can always weigh in on any future licenses.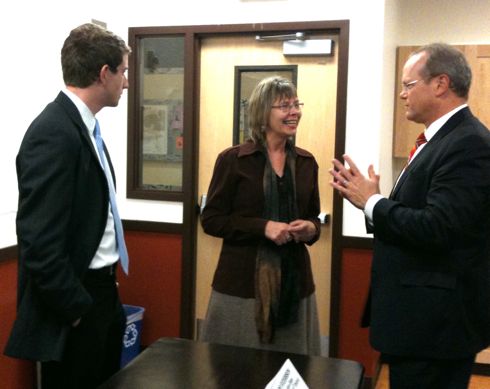 (From left, Rep. Fitzgibbon, NHUAC member Liz Giba, KCPA Satterberg)
Finally, the organizers of two citizen groups implored those at this meeting to attend their meetings. North Highline Unincorporated Area Council president Barbara Dobkin suggested that it was a great venue to address issues while the White Center Community Safety Coalition's co-leader said that their meeting typically only have seven attendees.
For further information:
thomas.bates@usdoj.gov for future followup meeting notices. (Here's the DOJ summary of the meeting.)
North Highline Unincorporated Area Council: Next meeting November 3, 7 pm (info here)
White Center Community Safety Coalition: Next meeting this Thursday, 6 pm (info here)
You can follow any responses to this entry through the RSS 2.0 feed. Both comments and pings are currently closed.