Update: Major law-enforcement operation in White Center – local and federal

(Photos by Deanie Schwarz for WCN)
1:55 PM: WCN contributor Deanie Schwarz reports that a major law-enforcement operation is under way in downtown White Center – we're working to get more information. Multiple agencies, and a K-9 too. Officers on scene told Deanie they won't have much to say before a news conference, likely tomorrow. We're seeking any additional information we can get and will add it as we find it.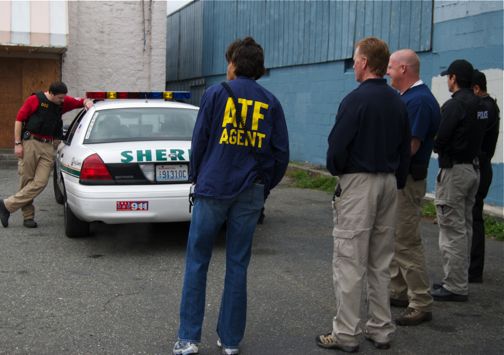 ADDED: A news conference has indeed been called for tomorrow. From the announcement, received from federal authorities:
U.S. Attorney Jenny A. Durkan and King County Prosecutor Dan Satterberg will be joined by members of federal, state and local law enforcement at 11:00 AM tomorrow (10/21) to discuss a major anti-crime initiative focused on the White Center neighborhood in South King County. The press conference follows three months of undercover work in the area, resulting in dozens of arrests.
Those participating in the news conference are listed as:
U.S. Attorney Jenny A. Durkan
King County Prosecutor Dan Satterberg
Kelvin Crenshaw, Special Agent in Charge, ATF Seattle
Representatives of the King County Sheriff's Office,
Seattle Police Department, ICE Homeland Security Investigations and
Washington State Department of Corrections
The announcement describes the operation as an "anti-crime initiative led by ATF's Violent Gang Task Force." Authorities will talk to the media at the Log Cabin Fieldhouse at Steve Cox Memorial Park at 11 am tomorrow.
WCN was told at the scene of today's operation that "multiple search warrants" were involved. Papa's Pub and DK Café were two of the locations at which we saw officers/investigators.
You can follow any responses to this entry through the RSS 2.0 feed. Both comments and pings are currently closed.