Pride Skate debuts at White Center's Southgate Roller Rink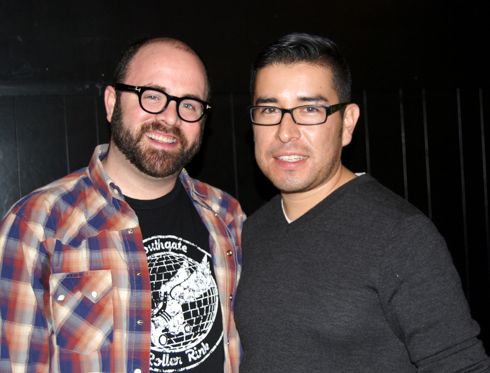 Story, photos, and video by Deanie Schwarz
Reporting for White Center Now
When the decades-old Gay Skate night at Skate King in Bellevue ended last year, it was the only organized skate night in the Seattle metro area for the GLBTQ community and friends. Partners Tim Kelly and Patrick Savedra (above), old friends of Southgate Roller Rink owners Erin and Josh Venables, began making the 15-minute drive from their Capitol Hill home when the newly renovated rink in White Center opened earlier this year. After months of conversations. deliberations and planning, they have all teamed up to begin a new era with "Pride Skate" on the first Wednesday of every month at Southgate.
The kick-off was last Wednesday and the crowd was good, according to Erin Venables, who told WCN that her "boutique roller rink" is proud to be part of the close-knit White Center neighborhood that she says she has learned is much different than what she used to think before going into business here. And she is proud of providing the venue for the GLBTQ community too. She's confident the Pride Skate guests are going to discover all of the great things about White Center that she has.
As a tribute to the spirit of Pride Skate, Erin redesigned the Southgate logo incorporating the rainbow colors. Joining the team to welcome the Pride Skaters to White Center, The Company Bar on 16th, one block east, has begun holding a brand new karaoke night on the first Wednesdays for after-Pride Skate gatherings.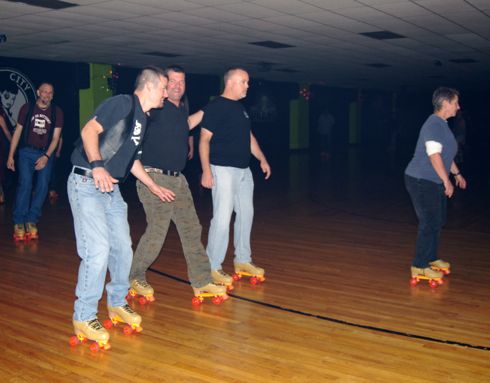 "It was one of these things where we saw that a lot of people wanted to still be skating once a month, especially as fall and winter approaches when there are fewer things to do outside. I think, for the community, it is along the lines of Gay Bingo or Gay Bowling. These things have always been there for everyone," Patrick said.
"The unique thing about skating is you don't have to be a champion level to skate; you can be at the beginner level and still have a really good time," Michael adds.
Beyond the fun exercise, there is the oh-so-important music, which the team has been putting a lot of energy into selecting. "We want to make it for us," Michael says. "So, it's a mix of current stuff you will hear at the clubs and the more nostalgic disco – like Donna Summers and the Bee Gees," Michael said. They are targeting music that will appeal to the 18-and-older crowd, as well as to the much-older skaters who will jam to the music of the '70s. "We want songs which are fun to skate to and have everybody find something they will like."
They've tried to get on every public calendar they could think of because they don't have a lot of money for advertising yet, but posters that Patrick made (he's a fashion photographer with his own studio at Pioneer Square 614) have been distributed around a few areas of town. The plan is for future posters with real skater models chosen on skate night as the event moves forward. They have also been networking the idea around town and received such great feedback about bringing back skating to a vibrant new venue that they were encouraged to forge ahead with the project.
The relocated skate night is the continuation of a legacy event within the LGBTQ community that offers socializing, exercise and a whole lot of fun at an affordable price. The $7 cost for the night includes two and half hours of skating, customized music, rental of brand new skates, as well as the snack bar with slushees and munchies.
Michael and Patrick say they have bumped into friends who remember skating at Southgate when they were younger and are thrilled that Pride Skate has landed in their old hood. "But we have noticed that there are assumptions from some people who haven't skated at Southgate that all skate rinks are unkempt or smelly or haven't been updated; but that isn't the case here. These owners are young with very fresh eyes on an industry that is full of people who have been running their businesses for a long time. I think Erin and Josh are innovative. They are doing a lot which is appealing to younger people and that is what is bringing them here. They have a fresh perspective on music and how a place like this should run and look, " Patrick said. "And they have brand new skates here! That's really important," Michael said with a laugh.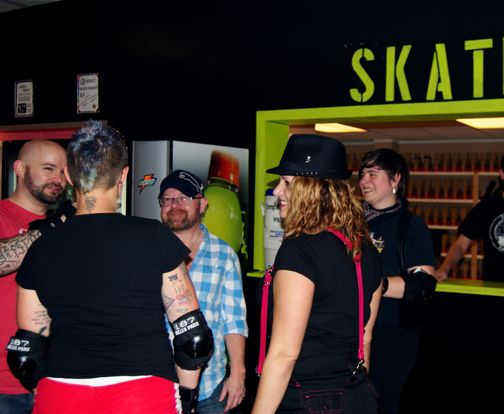 A Facebook "Pride Skate" page is set up so you can find updates on schedules, hours, costs, and special theme nights. Michael and Patrick say that next month's Pride Skate will be a few days after Halloween but everyone is welcome to come in costume or get that second costume that you didn't wear for the actual holiday, but nobody is pressured to do so. They are looking forward to meeting you and your friends, gay or straight, on Wednesday, November 2, 9-11 PM. As owner Erin told WCN, "It'll be when we can all be fabulous together."
You can follow any responses to this entry through the RSS 2.0 feed. Both comments and pings are currently closed.