County issues warning for apartments over the former Club Evo
(UPDATE: The water is reported to have been turned back on.)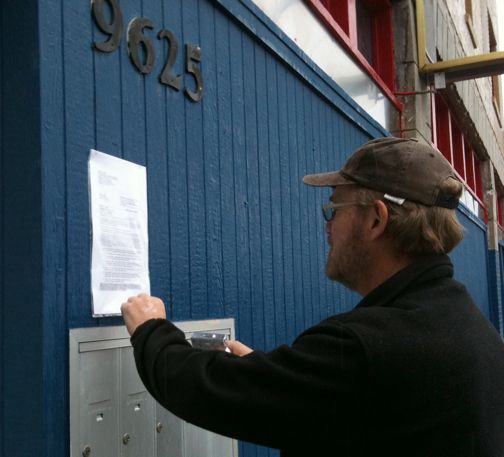 By Deanie Schwarz
Reporting for White Center Now
Al Tijerina, King County DDES Code Enforcement Inspector, posted an Emergency Notice Order at the Evolution Apartments (9625 16th SW) on Monday.
Like the former Club Evo space in the same building, the six apartments are owned by Alfred Lopez. The building had been managed by Jackie Blacketer for at least six months. Inspector Tijerina said the County is very concerned about the lack of water in the apartments (it was shut off September 7th for nonpayment) but said there are additional violations.
The emergency order says the violations posed "significant threat of immediate and/or irreparable harm; enforcement of this notice and order shall not be stayed during the process of any administrative appeal under Title 23 of the King County Code."
"Occupancy of substandard dwellings (apartments) in violation fo Section 16.14.100 of the King County Code. These apartments are substandard in the following instances:
A. Lack of running water in violation of Section 16.14.520 of the King County Code.
B. Insufficient heating capacity and/or defective heat supply in violation of the 2006 International Property Maintenance Code.
C. Improperly installed and/or defective electrical components including, but not limited to service panel, wiring, junction boxes, outlets and switches in violation of Section 604.3 of the 2006 International Property Maintenance Code.
D. Inoperative and/or missing smoke detectors in violation of Section 704.2 of the 2006 International Property Maintenance Code.
E. Accumulation of garbage, rubbish and debris throughout the common areas (hallways) in violation of Sections 202 and 307 of the 2006 International Property Maintenance Code and Section 21A.32.230 of the King County Code.
F. Interior surfaces are unmaintained in violation Section 305.3 of the 2006 International Property Maintenance Code."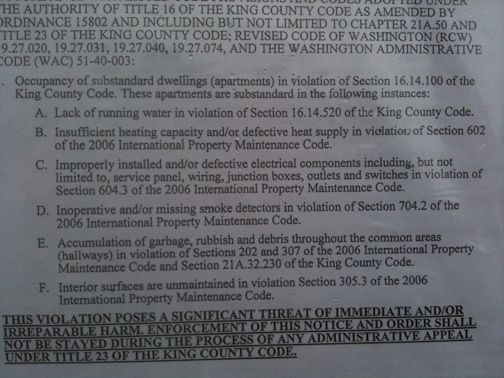 After complaints from tenants, including former manager Blacketer, DDES last week inspected the six studio units, five of which are usually rented month-to-month for either $400/$500 per unit, (including all utilities), and the common spaces.
We talked to both Lopez and Blacketer over the course of several days preceding the county's notice. Lopez told WCN that nobody had been paying rent and that's why the bills weren't paid. Blacketer told WCN that no renters were in arrears while she was managing the building.
Ultimately, Blacketer quit last week and left White Center. Lopez, who lives in California, flew here. If he does not have water service restored by this Friday, remaining tenants will have to vacate because it would be considered a public-health hazard.
Two tenants who Lopez says were moving out reportedly declined to pay rent after finding out the water was going to be shut off. Another tenants, who asked us just to identify him as Lee, says he has paid rent for the month and has nowhere else to go, as a retired person on Social Security.
Blacketer claims other utility services had been or were going to be cut off for lack of payment.
Late last week, Lopez told WCN he was going to try to get the water turned on, but his manager and tenants say he had been telling him that for almost three weeks. He also said that ultimately he would make a business decision about whether it is worth it for him to keep renting out the apartments, but said he wanted to comply with the County to ensure that there were no outstanding issues before he returned to California.
You can follow any responses to this entry through the RSS 2.0 feed. Both comments and pings are currently closed.