White Center murder update: Family identifies victim as 'Sweetheart'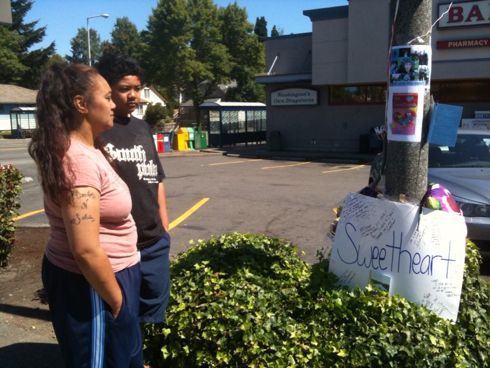 Photo and report from WCN/WSB contributor Deanie Schwarz:
The 23-year-old victim's name was Sweetheart, according to her cousin, Faatamalii Savea, who mourned Sweetheart at the memorial set up at the sidewalk berm outside of Bartell Drugs at 15th/Roxbury.
She told me "Sweetie" lived in the West Seattle neighborhood of High Point. Sweetie's mother died of alcoholism four years ago; her father died in a car accident last year in downtown Seattle. She is survived by one sibling, a brother and a large extended family.
She also said Sweetie had an alcohol problem, which the family tried to help her with as much as they were able and that aside from that, she was a good person who lost a lot in the past few years. Sweetie, according to her cousin, could usually be found hanging out at the transit centers in WC and Burien.
For the latest on the investigation, see our report from this morning.
You can follow any responses to this entry through the RSS 2.0 feed. Both comments and pings are currently closed.