Update: TV spotlight as B & D Aquarium's new-site search continues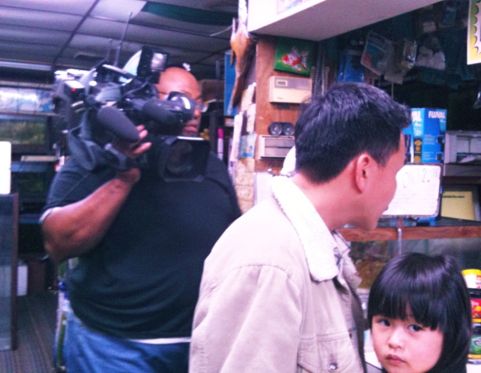 Story and photo by Deanie Schwarz
Reporting for White Center Now
KING 5 photojournalist Lorenzo Townsend – in the photo above – was at B and D Aquarium with reporter Eric Wilkinson on Tuesday afternoon, talking with owner Bruce Donohue. We checked in to see how his struggle against the imminent loss of his rented space at 106th and 98th is unfolding. Donohue received word last week that the property has been foreclosed on, and then was told there is a new owner who wants him to vacate immediately, but Donohue has yet to find another site.
Kellie Greer, a 25-year employee and store manager, said a few phone calls have come in with possible new properties to rent, but that most are not suitable.
Kellie, Bruce and Steev Ward, another longtime employee, are associated with Seattle Public Schools' salmon program, as well as hands-on consulting and participating with the Fauntleroy Creek stewardship efforts.
This year, Kellie is assisting fifth-grade teachers at Roxhill Elementary School troubleshooting and maintaining their educational tanks for the salmon-raising program.
Asked about the store's current crisis, she said, "I just hope something falls into our lap, soon."
Meantime, the KING5 story is online here.
You can follow any responses to this entry through the RSS 2.0 feed. Both comments and pings are currently closed.