Story behind the new mural at White Center's New Angkor Market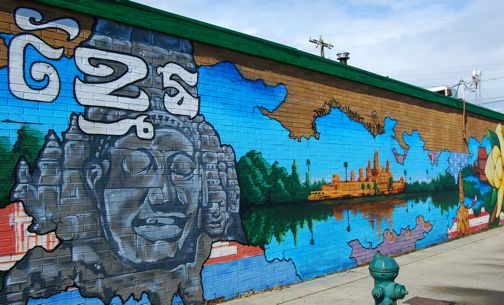 Story and photo by Deanie Schwarz
Reporting for White Center Now
New Angkor Market, at 16th SW and 98th SW, received a new mural during the annual White Center Spring Clean three weeks ago. We asked Pharin Kong of the Cambodian Cultural Alliance of Washington (whose members helped paint the mural) to explain what some of the new images represent, for those who are not familiar with Cambodian history and culture:
Kong says that the large script in the upper left translates simply to "market." In the center of the mural, the image of the palace-like Angkor Wat Temple might be familiar, because it is a Khmer icon found on a field of red between two bars of blue on the Cambodian national flag. It is a sacred historical site, built as a state temple honoring Vishnu, part of the Hindu trinity godhead, by the King Suryavarman in the early 12th century of the Khmer empire.
The large smiling bodhisattva on the left is an image from the Bayon Temple, also a 12th century Buddhist temple famous for huge stone faces facing outward toward each compass direction. Many dozens of towers, each with their own bodhisattva image facing each direction, surround the temple.
At the far right of the mural, the golden lotus is depicted. The lotus is important to both Hinduism and Buddhism. A Hindu creation story tells of the birth of the lotus blossom from the primordial earth; each of the Hindu godheads of Vishnu, Brahma, and Shiva are seen sitting upon the golden lotus. In Buddhism, enlightenment is associated with the lotus.
You can follow any responses to this entry through the RSS 2.0 feed. Both comments and pings are currently closed.