Customers and fans mourn impending loss of Bernie and Boys Market Place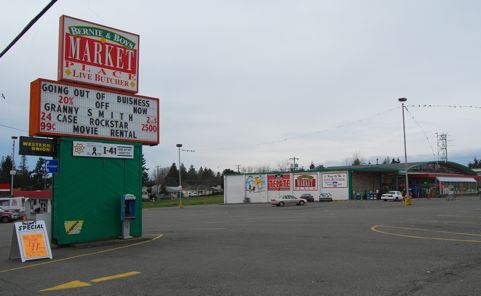 Story and photos by Deanie Schwarz
Reporting for White Center Now
Though it's not in White Center, it has fans far and wide, so we have heard from customers lamenting the upcoming closure of Bernie & Boys Market Place, home of the "Live Butcher," in Top Hat, and suggesting a closer look.
Bernie and Boys recently announced to their customers that the 100-year-old, family-owned-and-operated grocery/butcher shop/deli/bistro at 11225 1st Ave. South will close its doors.
Their landlord has put the property up for sale, though the economy had already caught up with the Salle brothers, Joe and Tom, who are left with no choice but to clear out of the current location and explore new opportunities.
In 1995, working 18-hour days for two years, the Salle brothers, Joe and Tom (along with their deceased father and brother, Bernie and Mike) reincarnated the previous Food Merchant store in this Top Hat area of North Highline. "Some of the neighbors use to refer to it as a "crack house which sold groceries" when we took it over. It was pretty rough," Joe said recently, sitting in the store's bistro where a full house gathered for companionship, as much as for the $1 per cup coffee or breakfast.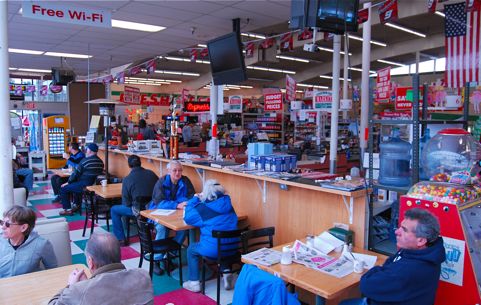 When the family arrived in Top Hat 16 years ago, the store needed vast improvements. Bernie and the boys dug in and not only cleaned up the store, they helped cleaned up the neighborhood. Their previous customers followed them from the family store they still owned then in Tukwila, the Riverton Community Store. They continued to grow the new business to employ 35 people, while maintaining a regional reputation for customer service and quality meat as the "Live Butcher," a trademarked term coined by their father, Bernie, during the 1962 Worlds Fair.
"People were always talking down about Top Hat or Rat City. And I say, you know what? This is a great neighborhood. People that live here are blue-collar, normal people. They are not fancy. They're blue jeans and tennis shoes; and that was our kind of people. That's who we were," said Joe.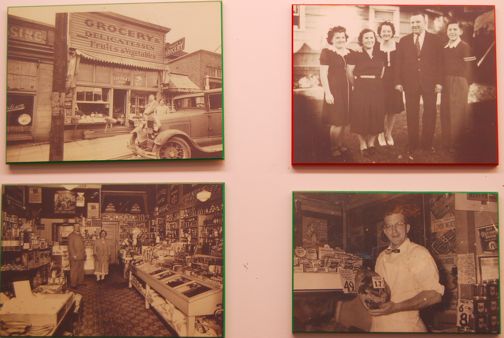 Like so many others in the early 1950's, Ginger Kelly and her sister would visit the family business with their parents, when it was located across from the old Duwamish Drive-In. The big weekly trek to the Riverton market was to get the best quality meat available. Even with all the nearby grocers, her dad, a former army cook, insisted he knew what was quality beef and that was Bernie's, says Ginger. As an adult, she left the area, but later returned and now, at 65, she still shops at Bernie's in the current location. "It's still just as good – good produce at a good value." Kelly has been marketing at the store all of her life as a second-generation Salle customer.
Over the past 16 years, the 22,000 sq. ft. store became a communal center for generations of folk and catered to all ethnicities. "My dad always said we don't care what color they are, as long as their money is green. We want to sell to everybody. We did not discriminate against anyone," said Tom. In fact, the Salles supported the community with sponsorships of school events for Evergreen and Kennedy High Schools, swap meets, classic auto shows, catered to 5,000 people at festivals and hired recovering drug addicts and sober alcoholics from the neighborhood.
People traveled from all over the metropolitan Seattle area to buy the meats.
Here's an example of the "specialty" meat the family has sold: Tom proudly mentioned that his prime rib sales at Christmas were double of his butcher friend at a high-volume grocery store meat department. The butcher shop and customer service were their primary draws. Over the years, folks have always gathered in the coffee shop and shared their stories of weddings, births, illnesses and deaths, even more so while the recent economic tide slowly receded.
According to Joe, "We weren't making any money, we were just breaking even. We were able to keep 35 people employed, get our insurance paid [and pay $7000 per month light bills]. But as the business declined, and the difference got wider, we were losing $10-$15K a month. And we've been losing that money for a couple of years, borrowing from everybody we can just to keep the doors open and to get through this. But, at some point, you have got to stop the bleeding."
He goes on to explain that "twenty-five to forty-five percent of our customers have left the neighborhood in the last two years, by the thousands, because there are no jobs. The sheetrockers, painters, the landscapers, menial construction jobs have all disappeared," Tom said.
A poignant camaraderie exists with their remaining customer base as all negotiate this era of troubled economic times. "That's the hardest piece," the brothers say. "Every day here lately is like a funeral. We don't want to lose our customers. They become friends, too. But they understand we have to do what we have to do to stay afloat," Tom said.
The Salle brothers promise the third and even fourth generation of loyal customers that they will once again reincarnate the Salle family "Bernie and Boys" and "Live Butcher" brand in one form or another, but are just beginning to explore what opportunities are available for them. And fortunately for the brothers, there are a number of them. Cutting their teeth in a grocery family with over one-hundred years of survival know-how having been passed on, might prove to be the key for rebounding away from the edge in this harsh economy.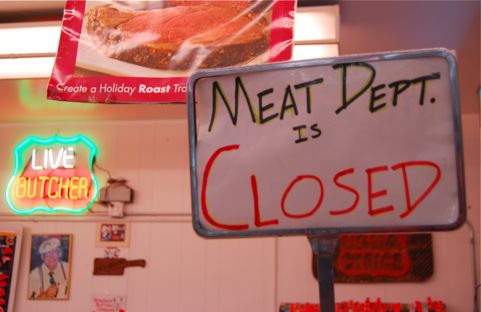 As they prepare to shut the doors , they are running a 20% discount on all products. "We aren't restocking anything except, milk and some produce and a little bit of meat. I think it will take a few weeks to sell everything out, but we'll see how it goes. When it gets down to a certain point, we might kick up the discount. I don't know. I've never had to do this," Joe said. At some point, an auction will be held to clear out fixtures, signage and certain equipment that will no longer be needed, as well as decades of advertising props and memorabilia jumbled about the cavernous store. Notices will be published when the date for that is determined.
The question remains of what comes next. The brothers discussed a few possible scenarios, all contingent upon finding available and appropriate properties and workable financing packages. They are welcoming information and leads from commercial property owners with viable space to rent. They are not even certain the two will remain together or will, out of necessity, split and go their own way – though Tom is quick to point out that they are and still will be family, no matter what road they take.
They do know that the weekly, casual Saturday night Classic Car meetup is going to continue in the parking lot. The landlord has said they can do that, even though they will no longer be tenants, until the property sells. "They've [the landlord} always been good to us here, " Joe said.
Beyond that, the future depends on whether they, together, operate a smaller, Italian specialty grocery with some olive oil, some wine, fresh pasta, maybe a deli and a smoking and/or dry cure room, if they have a butcher shop with it. To do the meat and a smaller grocery together – a scaled down version of their current placement – they estimate they would probably need 8,000-10,000 square feet, which is roughly half the size of the current space, as well as needing ample parking.
If that is not feasible, the brothers' expertise and successful track records in smaller niches might lead them to open up, independently, a bistro-type deli and Italian catering business (that would be Joe) and a separate "green" live butcher shop, perhaps with a smoking room and a dry cure room, eventually (that would be Tom). Tom says that a stand-alone butcher shop, as he envisions it with white shirts, bow ties and black pants, needs to be at least 1,500-2000 sq. ft. He wants to highlight the trade with open window fronts facing traffic, so his customers can see him as he works. Also on the list of requirements for this scenario would be parking.
The brothers have each looked at a few spaces in North Highline, as well as White Center, West Seattle and Magnolia. Their formative years provided each brother with unique educations: learning from their dad, Bernie, how to cut high-grade meat and sell groceries while getting return customers during the day, then going home at night and having their mother, Lucy, teach them how to cook what they sold. They are keeping the faith that that family apprenticeship and legacy will bode well in any future endeavors.
You can follow any responses to this entry through the RSS 2.0 feed. Both comments and pings are currently closed.