First the banners, now new signs welcoming you to White Center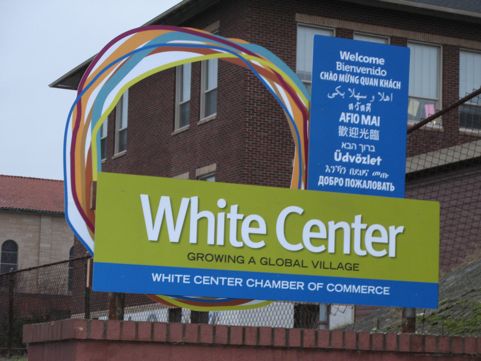 Thanks to Gill for the photo and the news that the new multilingual "Welcome to White Center" signs are up in at least two spots – this one's along SW Roxbury by Holy Family Church/School, and another one's up at 4th SW/SW 108th. This follows the similarly themed banners that have started to go up around the area (here's our story from two weeks ago).
ADDED FRIDAY MORNING: The Chamber board plans a photo opportunity by one of the new signs this afternoon, and also included this information about the signs:
The White Center Chamber of Commerce, in partnership with the Seattle Foundation and the White Center Community Development Association (CDA), has installed two new multi-language "Welcome" signs in White Center. Of the five original signs installed in the early 1990s, all are damaged beyond repair. These two signs are coated with an anti-graffiti material and represent the first phase for replacing all White Center Welcome signs. The Chamber board will gather at the sign located at Holy Family School in Seattle (Roxbury and 19th SW) at 1:00 pm today. The second new sign is located at 4th SW and SW 108th in unincorporated King County. The Chamber will continue fund raising to replace the other three signs in 2011.
ADDED: Here's the photo!
The WC Chamber reps in attendance included, according to president Mark Ufkes, Mac McElroy, Carlos Jimenez, Jimie Martin (Chamber mgr), Nhan Nguyen, Kathi Wheeler (Chamber board member next year and sign designer) Nancy Calos Nakano, Ray Zombro, Dr. Chris Hill.
You can follow any responses to this entry through the RSS 2.0 feed. Both comments and pings are currently closed.