White Center Community Safety Coalition: Oct. meeting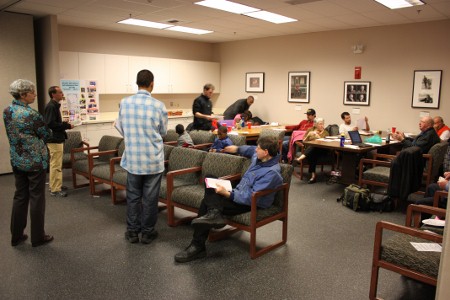 Story and photos by Jason Grotelueschen
Reporting for White Center Now
We stopped by the White Center DSHS offices for Thursday night's White Center/South Delridge Community Safety Coalition meeting, where about 20 attendees gathered to discuss neighborhood safety issues, liquor and crime enforcement, and policies for reporting "problem properties" in the WC community.
The meeting was led by WCSDCSC chair Sean Healy and was called to order shortly after 6 pm.
Three upcoming events, mentioned by attendees:
First on the agenda for the evening was Lt. Woodrow Perkins from the Liquor Control Board, who reported on two active cases his team is working on:
Center Market: Perkins reported that the store's current liquor license expires Oct. 31st (this weekend), and that he hasn't heard from the owner if they definitely plan to renew. The store had been selling liquor under two temporary permits recently, and had been subject to a suspension.
Evo (aka Club Evolution): With complaints about Evo dating back to 2002, Perkins reported that his team had made a visit to the club and found they were serving alcohol, which they "confiscated and destroyed in large quantities." Perkins' team is doing additional follow-up now (and on a similar club in another location), and is planning to file a report with the King County Prosecutor's Office with the recommendation that 2 individuals involved would be criminally cited.
This segued into a discussion about alcohol and tobacco advertising in the area, with comments from Perkins as well as Mike Graham-Squire (pictured below, with a poster showing his group's efforts) from High Point Neighborhood House. Squire led a project this past summer to visit businesses in the 98126 and 98106 area codes to evaluate their compliance with the Liquor Control Board's new alcohol advertising restrictions adopted statewide earlier this year.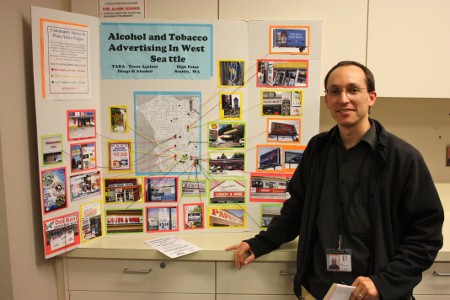 A summary of what the rules entail:
Limiting to four the number of signs advertising alcohol, brand names and manufacturers that are visible from the outside of a retail licensed premises such as stores, bars and restaurants;
Restricting the size of alcohol signs visible from the outside of a retail licensed premises to 1,600 square inches; and
Applying the rules to signs at civic events where alcohol is served, such as beer gardens.
Graham-Squire told meeting attendees that his group found a "high concentration of violations around White Center," which prompted nods around the room and comments like "that's not surprising." He added that his group is planning to do a similar effort again, including giving awards to businesses that go above-and-beyond to limit alcohol advertising. He also said he's involved with the state's new Let's Draw The Line campaign against underage drinking, and encouraged anyone interested in helping to contact him.
Perkins said citizens who notice violations to the advertising rules are encouraged to report them to the project hotline – 888-838-3956 – and "we'll go visit them." He did note that his enforcement team is "spread pretty thin" with 4 officers working 8 areas, each covering 500-600 locations, but tries to respond as best they can.  His team uses a "progressive discipline" approach for enforcement, moving from verbal/on-site warnings up to legal action.
Perkins also talked about the city's Good Neighbor policy, targeting individual businesses selling alcoholic beverages, and listened to concerns from attendees about the rising consumption of energy drinks with high alcoholic content. Local residents reported seeing a huge increase in discarded containers of these "crazy beverages," which Graham-Squire said  "are the equivalent of 6 beers and 5 cups of coffee in a single 24-ounce can, for $3."  Perkins acknowledged the issues with the drinks, but said the LCB isn't in a position to really target them — banning them would require state or federal legislative action.
Next on the agenda was the evening's guest speaker, Kay Godefroy, executive director of the Seattle Neighborhood Group, who offered tips and strategies for dealing with "problem properties" and "nuisance issues" in the area's residential neighborhoods. Godefroy encouraged neighbors to gather documentation like photographs and detailed log books (but be safe collecting the information) about any problems you see.
"It's all about gathering good documentation, getting good detail, and having lots of neighbors do it," she said. "If we can all help create safe livable residential communities, with no drug dealers or problem neighbors, it makes us all safe."
Godefroy said the small-claims court system (or rather, the mere threat of small-claims) is an effective way to put pressure on problem neighbors, but "it clearly works best when there are many neighbors co-signing a strongly-worded letter about the problem, not just one signer." In most cases, she said, the issue never even has to go to court, and the neighbor voluntarily moves toward compliance if 10-15 neighbors manage to co-sign and file a complaint. "You have to be 'noisy' and stand up for yourselves," she said.
Godefroy also emphasized education of property owners, using her group's Landlord Training Workshops as an example of how they're trying to keep people informed. The hardest situations, Godefroy said, are single-family properties that are owner-occupied, particularly by someone who may be "2nd or 3rd generation of a family, they inherited the property and just don't value it."
When asked by an attendee if renters have the same rights, Godefroy said yes — you can file complaints with the landlord on behalf of multiple residents. In all cases, the idea is to get a letter together — that way, if the issue does go to court, the recipient "can't say they didn't know about the problem, they can only say they chose not to address it."
When asked about how this extends to businesses that may not be cracking down on troublesome activity on their property, Godefroy clarified the difference between criminal activity and "nuisance activity." If you see a crime happening, report it to 911 and the local authorities immediately. She said it's good to also document such reports, for the future.
"It's amazing what a business can do, to help the problem," she said, saying there are businesses in White Center that had "people outside doing bad things, and got them to stop or to move somewhere else."
Next meeting: Because of holidays in November and December, the group will hold a single meeting to cover the rest of 2010: It will be on Thursday December 9th, at the DSHS offices at 6 pm.
You can follow any responses to this entry through the RSS 2.0 feed. Both comments and pings are currently closed.