New clothes bank about to open: The Clothing Closet
Story and photo by Randall G. Hauk
Reporting for White Center Now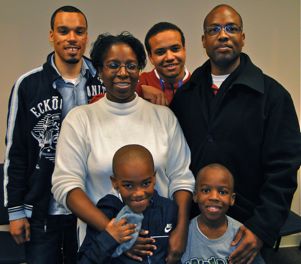 Providing clothing, toiletries and showers to those in need are just a few of the goals of "The Clothing Closet," introduced at Thursday night's White Center Community Safety Coalition meeting.
Beginning this coming Tuesday, Pastor Timothy Rambo of New Generation Ministries is opening the doors of a new endeavor in hopes of positively impacting the local community. (Photo: Back from left, WCCSC chair Sean Healy, Angela Rambo, youth ambassador Pedro Navaro, Timothy Rambo; front, Timothy Rambo Jr. and Titus Rambo.)
Regular hours of operation will be Tuesdays and Sundays from 2 to 4 p.m.
"We already have a lot of clothing for men, women, children and infants," said Angela Rambo, Pastor Rambo's wife and chief administrator of the project.
She said they want to target people who are going to job interviews or court appearances, but lack the proper clothing to put forward an appropriate image for the situation.
As the operation grows, she also said they hope to be able to offer resume writing assistance and mock job interviews, as well as other programs which might help develop the life skills of those who utilize The Clothing Closet.
While a website is still in the works, the operation can be reached via their e-mail address: newgenerationministries98106@yahoo.com
The Clothing Closet is located at 9029 16th Avenue SW (map) in the blue house across from the Salvation Army.
You can follow any responses to this entry through the RSS 2.0 feed. Both comments and pings are currently closed.